DHSc program chair named
Posted: May 9, 2014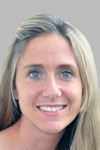 Kathleen DiCaprio, PhD, has been named chair for the Doctor of Health Sciences (DHSc) program in the ATSU College of Graduate Health Studies. She previously served as an assistant professor of microbiology and immunology at Touro College of Osteopathic Medicine in New York, as well as the director of content development and education at Oceania University of Medicine. In addition, she served as an instructor and curriculum consultant for Kaplan Medical.
Dr. DiCaprio has a history of teaching undergraduate, graduate, and medical courses in areas related to infectious diseases and infection control, immunology, public health, and emergency preparedness. She comes to ATSU with an impressive history as a faculty member and administrator in higher education of the medicine and the health sciences.
Dr. DiCaprio earned her BS in biochemistry from The College of Saint Rose and her PhD in pathology from Uniformed Services University of the Health Sciences. Her prior research focused on studying pathogenesis of maximum containment (Biosafety-level 4) viruses such as Ebola and Marburg in non-human primate models. Her research efforts contributed to the development of potential vaccines and therapeutics against these deadly viruses, and her work has been profiled in numerous publications and press releases.
Dr. DiCaprio will begin her position as chair for the DHSc program on May 15, 2014. At that time, she can be reached at kdicaprio@atsu.edu.