Deployed for public health support
Posted: September 23, 2020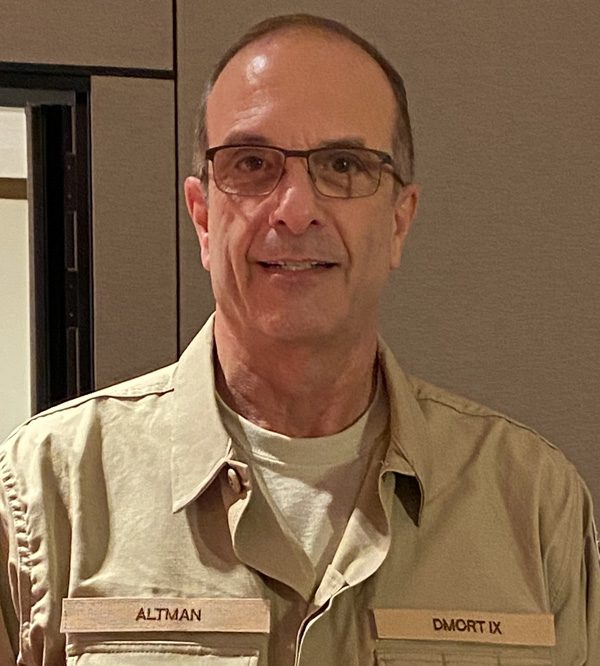 Dr. Don Altman was assigned to the Incidence Management Team at Miramar Marine Corps Air Station in San Diego.
After the terrorist attacks on Sept. 11, 2001, state mass disaster groups joined the National Disaster Management System (NDMS), which deploys and facilitates order during times of disaster. NDMS is composed of 5,000 professionals, including a variety of physicians, dentists, nurses, and paramedics. Don Altman, DDS, DHSc, EdD, MPH, MBA, MA, '12, professor and dean of ATSU-CGHS, is one of those NDMS professionals. He was deployed for two weeks to assist with a cruise ship returning to port amid the early days of the COVID-19 pandemic.
Dr. Altman went through a barrage of experiences from the moment he declared his availability for deployment. It was only a couple of hours from the time he replied to a request for his service before his travel orders were issued. He quickly headed to Miramar Marine Corps Air Station in San Diego, where he was assigned to the Incidence Management Team.
The situation was ever evolving. Thousands of cruise ship guests were transferred to various air bases for quarantine, and personnel from around the country came together to ensure these guests were cared for and comfortable. But it wasn't exactly a smooth operation at the beginning.
"We were short of everything from the very beginning," Dr. Altman said. "We didn't have toilet paper, we couldn't get antibacterial soap, we couldn't get masks."
The team faced the same problems as everyone else across the country. For the first four or five days, they established a system so personnel could perform their duties. After the initial days, everything started to fall into place.
"It became totally different when things started to settle down, which was about five days into the operation," Dr. Altman said. "I think that's what happens in every single disaster. It is a disaster, people are deployed immediately. So those first days are always a bit chaotic."
Through this unplanned adversity came moments of resiliency and mutual appreciation for the human spirit. Dr. Altman noted the appreciation and gratitude that came from guests despite the initial chaos. Volunteers pulled together to do whatever they could for guests, especially those who were missing major life milestones. One nurse discovered her patient was going to miss his daughter's wedding, so she acquired the necessary technology to make it possible for him to virtually walk her down the aisle.
"He was grateful that people were taking the time to help him be there for his daughter's wedding," Dr. Altman said. "It was very heartwarming."
Many have been on the front lines since the COVID-19 pandemic began, selflessly giving their time and talents for the needs of others. While "physical distancing" is imperative during these times, Dr. Altman said not to take the term "social distancing" too literally. He encourages reaching out to loved ones, family, and friends and seeing how they are doing, even if it is just a text message, a telephone or video call.