Debut of SparkTank ignites ideas on ATSU's Kirksville campus
Posted: November 23, 2015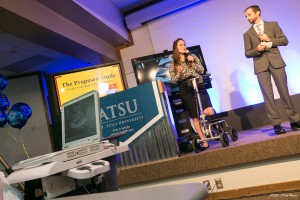 A.T. Still University's (ATSU) Teaching and Learning Center sponsored and debuted SparkTank, a live show-style competition focused on teaching and learning, on the Kirksville, Mo., campus on Nov. 18, 2015. The inaugural event featured individual contestants and teams who pitched their ideas for innovative teaching and learning projects to a panel of judges for the opportunity to secure $5,000 in project funding in front of a live audience.
Six individual and/or team entries presented their proposals in front of a panel of judges and an audience comprised of more than 60 faculty, staff, and students. Following each presentation, judges and the audience were provided the opportunity to ask questions of contestants. The competition concluded with judges announcing three winning proposals, representing SparkTank categories for innovation in teaching practice, engaged learning activities, and 3-D printing/modeling.
Jess Roland, OMS I, and a team comprised of Seth McIntire, OMS I, and Shannon McAllister, OMS I, won top honors and received funding for their respective projects. McIntire and McAllister presented in two separate categories and received funding for both proposals.
"I think it's good to get out of your comfort zone and present in front of an audience, especially when it's something you're passionate about," said McAllister. "I really like the idea of affecting the ATSU community for the better."
Judges for the inaugural event included Lori Haxton, MA, vice president for student affairs; Clinton Normore, MBA, director of diversity; Bryan Krusniak, MBA, assistant vice president, information technology & services; Gaylah Sublette, MBA, associate vice president, sponsored programs, and Tisha R. Kice-Briggs, DDS, member, ATSU Board of Trustees.
"I was impressed by the quality of each contestant's proposal and their corresponding presentations," said Haxton. "I look forward to following the progress of these projects and how each of them will impact teaching and learning at ATSU."
ATSU will continue this competition to encourage collaborative efforts from the entire ATSU community for the benefit of teaching and learning. SparkTank is set to debut on the Mesa, Ariz., campus on Feb. 24, 2016.