Dean Dillenberg recipient of international award
Posted: February 12, 2014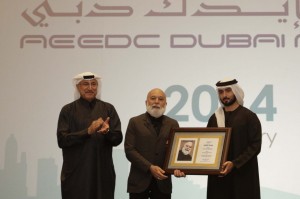 Jack Dillenberg, DDS, MPH, dean, ATSU Arizona School of Dentistry & Oral Health, has received the AEEDC International Personality of the Year Award for 2014. AEEDC is the United Arab Emirates (UAE) International Dental Conference & Arab Dental Exhibition and is the largest dental meeting in the Mideast.
Dr. Dillenberg was presented with the award by His Highness Sheikh Majid Bin Mohammed Bin Rashid Al Maktoum, chairman of Dubai Culture and Arts Authority, on Feb. 6 in Dubai, UAE. He received the award at the AEEDC gala, which had more than 1,000 individuals in attendance.
"I was completely surprised and humbled to receive this wonderful honor from our colleagues in the UAE," said Dr. Dillenberg.
The award is given each year to recognize those who contribute highly to global oral health. See the complete article.