Dean Danielsen honored with AAPA's highest award
Posted: May 13, 2015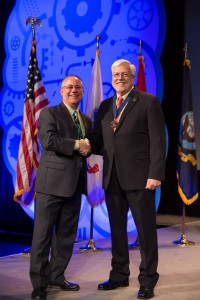 Congratulations to A.T. Still University's Arizona School of Health Sciences' Dean, Randy Danielsen, PhD, PA-C, DFAAPA, who has been named the 2015 Eugene A. Stead Jr. Award of Achievement winner. This is the highest award given by the American Academy of Physician Assistants (AAPA).
The Stead Award honors the candidate's lifetime achievement that has had a broad and significant impact to the PA profession. Dr. Danielsen, according to AAPA, is being recognized for distinguishing himself as a pioneering national and state PA leader, clinical, educator, author and editor of scholarly journals. Throughout his career he has continued to advance and enhance the profession for the betterment of PAs and the patients they serve.
"I am so honored to be mentioned in the same breath as the previous award winners and I was fortunate to know Dr. Eugene A. Stead Jr., the founder of the PA profession," said Dr. Danielsen. "I was privileged to begin my career when the profession was young and have had so many great opportunities in clinical practice, PA education, workforce research, and professional leadership. I hope I have been part of the maturation process of this important and much-needed profession."
Dr. Danielsen received the award during the AAPA's annual conference scheduled May 23-27 in San Francisco.
View a video montage – courtesy of the AAPA – highlighting Dr. Danielsen's lifetime of work to advance the PA profession.