Cutting-edge simulation
Posted: May 21, 2019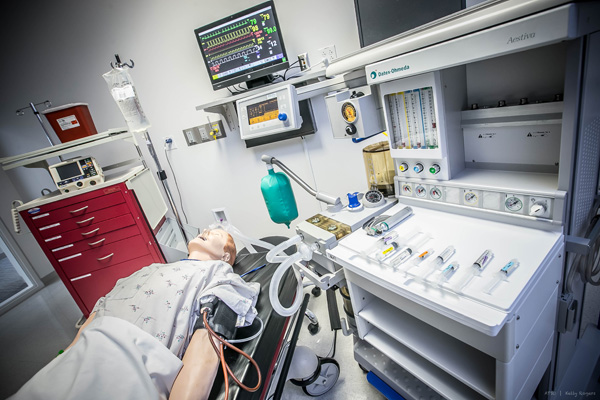 ATSU was able to purchase an anesthesia machine and a Fundamentals of Laparoscopic Surgery (FLS) all-in-one trainer to use with with human patient simulators.
Simulation center expands to include surgical and critical care training
ATSU-KCOM's Ben Schrant, DO, FAOCA, '08, assistant professor, surgery, had a vision two years ago to obtain an anesthesia machine to use in ATSU's Drabing Human Patient Simulation Center. Along with Lisa Archer, RN, BSN, director of simulation & performance assessment, and Mackenzie Lesh, DO, '18, his vision became a reality. ATSU's simulation center was recently awarded a grant through Northeast Missouri Osteopathic Charitable Trust to develop a surgical and critical care training center for osteopathic trainees. With funds from the grant, ATSU was able to purchase an anesthesia machine and a Fundamentals of Laparoscopic Surgery (FLS) all-in-one trainer.
This educational project aims to prepare surgical residents for required certification in FLS. The addition of a functioning anesthesia machine provides opportunity for high-fidelity simulated clinical training in critical care medicine, surgery, and anesthesiology fields. Osteopathic residents and medical students now have increased opportunity to advance their ventilator management, procedural, and surgical skills. The surgical center will also benefit other members of the northeast Missouri medical community, such as practicing physicians, nursing students, and first responders.
"We can place an endotracheal tube in any of our simulators," says Dr. Schrant. "The anesthesia machine can then be used as a typical critical care ventilator. This allows for students to gain hands-on experience in a simulated environment, and allows practice with higher acuity patients."
Discussion of anesthesia with simulation has been a hot topic lately within the simulation community, and ATSU is on the forefront of that trend. The combining of an anesthesia machine with ATSU's current simulators is a cutting-edge development. Dr. Schrant and lab technician Rob Long have learned how to use the simulator software to create realistic responses from the ventilator and anesthesia machine. Consequently, critical care medicine, airway management, and difficult airway scenarios may be practiced in real time. The anesthesia machine will be used to augment teaching tools already available in the simulation center and function as a working piece of medical equipment that students are encouraged to understand, manage, and alter.
"For hands-on learners, this will add so much more to their experience as students," says Archer.
Moving forward, plans are to expand the surgical center to include high-fidelity operating room and surgical crisis simulation. The new equipment furthers the mission of ATSU-KCOM to provide students and local physicians with cutting-edge training and experiences.