Crisis on the reservation
Posted: September 23, 2020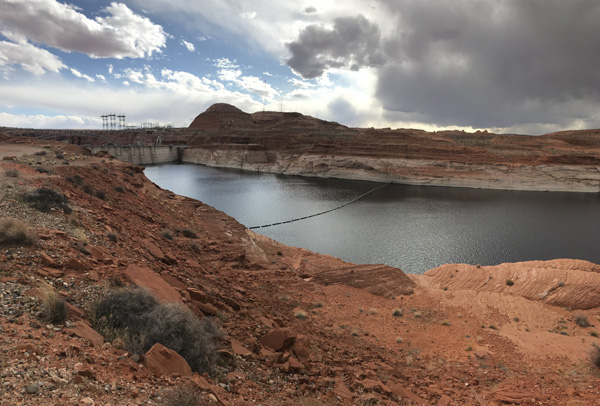 The Navajo Nation Reservation near Page, Arizona.
Life is difficult on the Navajo Nation Reservation under the best of circumstances. Unemployment is around 50%. Nearly a third of Navajo reservation inhabitants lack access to water and electricity. And the population struggles with mortality rates for numerous diseases far higher than elsewhere in the country.
The COVID-19 pandemic has only exacerbated a public health crisis. Abject poverty combined with the family-oriented environment make the 17.5 million acre piece of land straddling Arizona, Utah, and New Mexico a perfect place for the virus to thrive. The first positive cases were recorded in March. By the end of April, the volume of infection on a per-capita basis was second only to New York.
ATSU-SOMA alumnus Matthew Nelson, DO, MPH, '15, has been raising an alarm on the worsening situation since the start. A physician at Canyonlands Healthcare, a community health center in Page, Arizona, he's taken to his Facebook page to share statistics, written a powerful essay for the Navajo Times, and worked to create PPE to provide area healthcare workers in need.
"I've been on social media, trying to raise at least some local awareness about the brewing hotspot for a while," Dr. Nelson said. "I'd been tracking the numbers, per capita, because I knew this was not going to play out well on the reservation, where there is housing insecurity, water insecurity, you-name-it insecurity."
Dr. Nelson knows the Navajo Nation well, first visiting as part of his mission with The Church of Jesus Christ of Latter-day Saints. He initially pursued degrees in cultural and linguistic anthropology before deciding he wanted to take a more active role in helping the struggling Navajo population.
That led him to ATSU-SOMA and an educational experience he said set him up for future success.
"The way you are learning is the way you are going to see things in the clinic," Dr. Nelson said. "It was probably better than any medical school experience I could have hoped for. I feel like I was well prepared relative to medical students and residents coming out of other schools."
He targeted residency and fellowship opportunities he believed would present challenging opportunities to prepare him to serve one of the nation's most underserved populations. And that was before COVID-19.
"A lot of my patients are scared to death to come into the clinic or hospital," Dr. Nelson said. "We're not allowing family members in to visit the sick, which is very difficult for a population that is significantly family- and elder-oriented. This population who reveres and respects their elders, and treats them as the absolute head and leader of a family, when they are burying those people, or when those people are going into the hospital and they are symbolically burying them in the hospital, it's really difficult and hard to watch that."
In addition to encouraging his community to wear face coverings and follow guidance from the Centers for Disease Control and Prevention, Dr. Nelson purchased his own 3D printer and taught himself how to make N95-style masks to support his local front-line healthcare workers, particularly home health agency workers who are treating people on the reservation. He also organized regional volunteers to assist in procuring PPE for the community and was pleased to receive help from ATSU-SOMA faculty and students in the Phoenix valley and Flagstaff, Arizona.
"Those home health workers don't have PPE, they don't have masks," Dr. Nelson said. "They are putting their lives on the line."