Contestants shine during SparkTank on the Arizona campus
Posted: February 25, 2016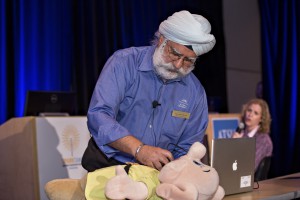 A.T. Still University's (ATSU) Teaching & Learning Center held its second SparkTank event, a live show-style competition focused on teaching and learning on the Mesa, Arizona campus on Feb. 24. The event featured individual contestants and teams who pitched their ideas to a panel of judges for the opportunity to win $5,000 in project funding. Of the 19 proposals submitted, eight were selected to present in front of six judges and an audience comprised of more than 50 faculty, staff, and students.
Following each presentation, judges and audience members were provided the opportunity to ask questions of contestants. The competition concluded with judges announcing four winning proposals, representing SparkTank categories for innovation in teaching practice and engaged learning activities.
Second-year osteopathic medical students Marvin Dang and Uday Gulati made the journey from Brooklyn, New York to present their project titled "ATSU's Virtual Osteopathic Clinic." They were awarded top honors and received $5,000 to fund their project. "When the both of us realized we wanted to address a major gap in our medical education, we immediately began putting together our proposal," said Gulati. "It was not soon after that we heard about SparkTank that we knew this was the perfect opportunity to start turning our vision into reality. We want to utilize healthcare technology and gamification to increase opportunities for medical students to practice osteopathic manipulative medicine on patients in underserved areas. For us, the hard work has already begun and we are excited more than ever to see this program through."
Judges for the event included Norman Gevitz, PhD, senior vice president of academic affairs; Mike Kronenfeld, MBA, MLS, university librarian at ATSU Memorial Library; Beth Poppre, MEd, associate vice president of student affairs; Shaun Sommerer, PhD, vice president of university advancement; Bob Uhl, ATSU Board of Trustees and former president, Bar-S Foods Co.; and Ted Wendel, PhD, senior vice president of strategic initiatives & planning. ATSU will continue SparkTank annually to encourage collaborative efforts from the entire ATSU community for the benefit of teaching and learning.
View all SparkTank winners and proposals, including those from the Kirksville event held on Nov. 18, 2015.