Congratulations to the newly selected Academic Coaching and Writing Initiative scholars
Posted: February 5, 2018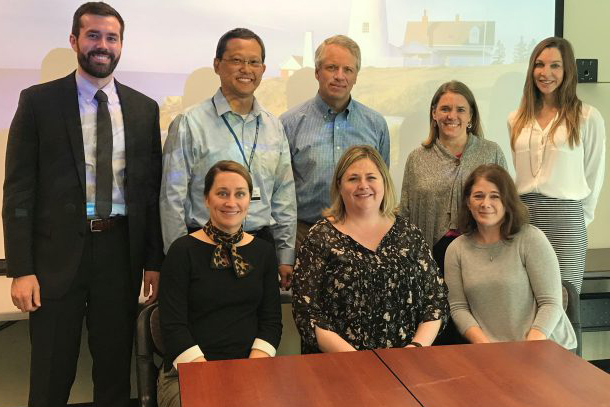 Academic Coaching & Writing Scholars
The following faculty were selected to participate in a 12-week individualized coaching program sponsored by the Office of Academic Affairs and the Teaching & Learning Center:
Kelli Glaser, DO, FACOFP (ATSU-SOMA)
Milton Pong, PhD (ATSU-SOMA)
Monica Nenad, RDH, MEd, DHEd (ATSU-ASDOH)
Mai-Ly Doung, DMD, MPH, MAEd, FAGD (ATSU-ASDOH)
Erin Breitenbach (ATSU-CGHS)
David Line, PhD, MA (ATSU-CGHS)
Rami Al Saidi, BDS (ATSU-MOSDOH)
Matthew Greaves, DDS (ATSU-MOSDOH)
Jamie Kuettel, PT, DPT, NCS, GCS (ATSU-ASHS)
Joy Levine, PhD, DPT (ATSU-ASHS)
Lori Bordenave, PT, DPT, PhD (ATSU-ASHS)
Deanne Fay, PT, DPT, MS, PCS (ATSU-ASHS)
Tawna Wilkinson, PT, DPT, PhD, PCS  (ATSU-ASHS)
Kim DeVore, MS, PA-C (ATSU-ASHS)
Jamie Kuettel, PT, DPT, NCS, GCS, Assistant Professor (ATSU-ASHS)
On Jan. 12, the scholars participated in a kickoff luncheon with Dr. Norm Gevitz and a live webinar with their Academic Coaching and Writing Initiative (ACWI) coaches. Each scholar and their coach develop a schedule to hold one-hour weekly coaching sessions during the 12-week program.
Scholars complete preparation activity assignments prior to their coaching sessions and then discuss with their coach such topics as developing a personal writing practice schedule, gathering research, and other related writing topics. As writing progresses, coaches provide feedback on drafts to their scholars.
The scholars also have the opportunity to participate in the Academic Coaching & Writing (ACW) national virtual writing room where they can gather and discuss ideas about their writing projects with other participating faculty from institutions nationwide.
Congratulations to the newly selected ACWI scholars on their selection and commitment to developing their academic writing practice!