Congratulations, class of 2020!
Posted: September 23, 2020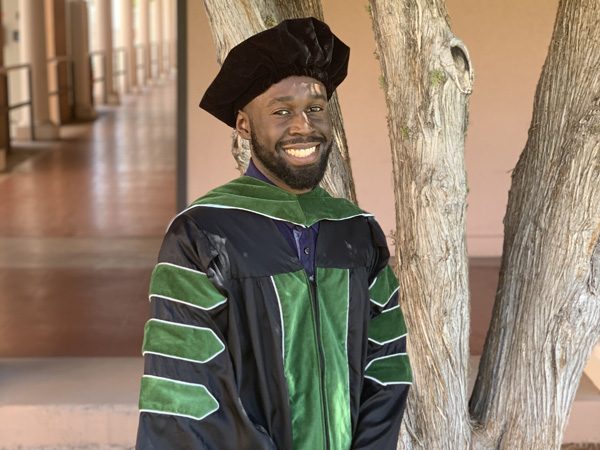 Madison Trammell, AuD, '20
The class of 2020 celebrated graduation like no class before. While most colleges and universities canceled or postponed commencement activities because of the COVID-19 pandemic, ATSU held its seven commencement ceremonies on their originally scheduled dates throughout the spring and summer. From May 8 through Aug. 7, the University made the most of social distancing to provide its newest graduates with a virtual ceremony, marking their significant achievements amid an unprecedented time in history.
"You are entering a profession that serves and cares for individuals and communities, in the best of times and in the worst of times."
– ATSU-ASHS Dean Ann Lee Burch, PT, EdD, MS, MPH
"Let not the distance, the technology, and the computer screen we stare at, separate us and distract from the jubilance of this occasion, but let them unite us in a spirit of achievement, celebration, and the spirit of improvisation."
– ATSU-MOSDOH Dean Dwight E. McLeod, DDS, MS
"The world is in an interesting place right now. Times like these need leaders like you. Take your new knowledge, use it to lead the way, and make this world a better place."
– ATSU-CGHS Dean Don Altman, DDS, DHSc, EdD, MPH, MBA, MA, '12
"You will now be directly responsible for the care of your patients, and they will look to you for advice, support, guidance, decisions, and advocacy regarding their health and well-being."
– ATSU-SOMA Dean Jeffrey Morgan, DO, MA, FACOI, CS
"You are an extraordinary class that has faced an unprecedented time in history. No other generation of graduates has encountered a crisis of this proportion in our lifetime."
– ATSU-KCOM Dean Margaret Wilson, DO, '82
"Whenever you have a chance, choose to help make someone's life just a little bit better."
– ATSU-ASDOH Dean Robert M. Trombly, DDS, JD