Compassion takes flight
Posted: November 14, 2014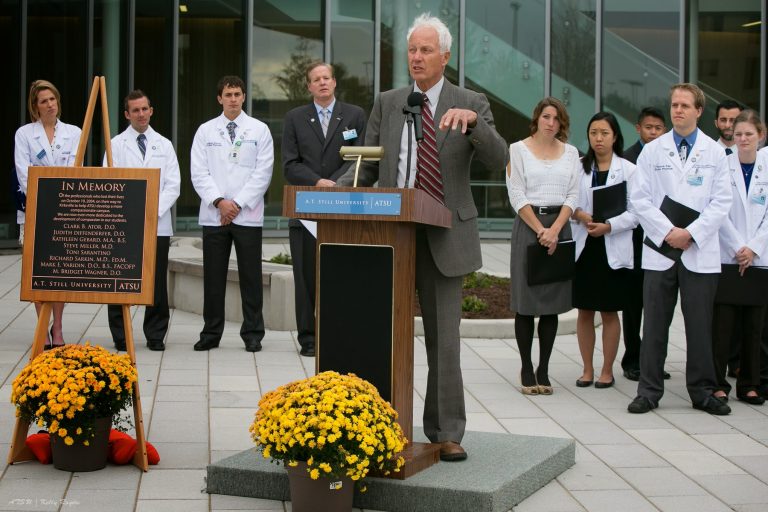 John Krogh choked back tears as he addressed the Founder's Day crowd on Oct. 17. Just two days to the 10th anniversary of the crash of Corporate Airlines Flight 5966, his voice wavered as he shared painful memories of the twin turboprop jet's frightful descent into a tree row just near the Kirksville Regional Airport.
It was Oct. 19, 2004.
Krogh, PhD, administrative dean of KCOM's Utah region, was one of only two survivors. He and Wendy Bonham, site coordinator for KCOM's Utah region, narrowly escaped the burning fuselage moments after the crash. Eleven passengers and two crew members died.
"I am convinced that we will, at some point in time, meet with those people again. I am convinced of that as sure as I am convinced that the sun is shining beyond those clouds," Dr. Krogh said, fondly remembering his colleagues.
Many on board the flight were en route to Kirksville for KCOM's conference on humanism and compassion in medicine. Although the conference never took place, the tragedy emphasizes the importance of compassionate, patient-centered care—the very care Dr. Krogh said he received from the ATSU community while recovering.
And though his physical scars have mended, there is still much healing to do. Dr. Krogh said he had been waiting 10 years to share his feelings, his hurt, and his hope. He said he is grateful to be alive and be a part of the University's legacy at this year's Day of Compassion.
As the ceremony closed, the American flag rose and waved gracefully in the wind, its vibrant colors dancing across a grey sky. It now stands as a strong symbol honoring lives lost,lives lived, and ATSU's continued commitment to humanism in healthcare.