Chaminade University signs articulation agreements with ATSU
Posted: October 2, 2014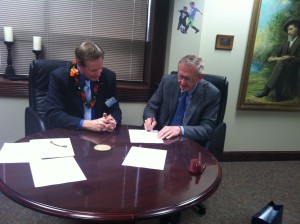 A.T. Still University (ATSU) welcomed representatives from Hawaii's Chaminade University to the Missouri campus. Brother Bernard Ploeger, SM, PhD, president of Chaminade University, was joined by associate provost, Patricia Lee-Robinson. Brother Ploeger and Robinson gave a presentation about Chaminade University and its mission to Hawaii, its commitment to preparing health care professionals, and the similarities between the missions of ATSU and Chaminade University.
Their speaking engagement was a part of A.T. Still Memorial Libary's open house entitled "A Voyage to Health". Brother Ploeger and Robinson were introduced by Jaquelynn Pratt, OMS II (KCOM). Pratt is a graduate of Chaminade University.
ATSU President, Craig Phelps, DO, '84, FAOASM, met with Brother Ploeger, and Robinson to sign three separate articulation agreements between the two Universities to further develop the relationship between ATSU and Chaminade University. These agreements centered on the Kirksville College of Osteopathic Medicine, the Missouri School of Dentistry & Oral Health, and an over-arching agreement between Chaminade University and ATSU as a whole.
The Universities share a common mission of serving the underserved.