Center for the Future of the Health Professions Oct. 2022 digest
Posted: October 5, 2022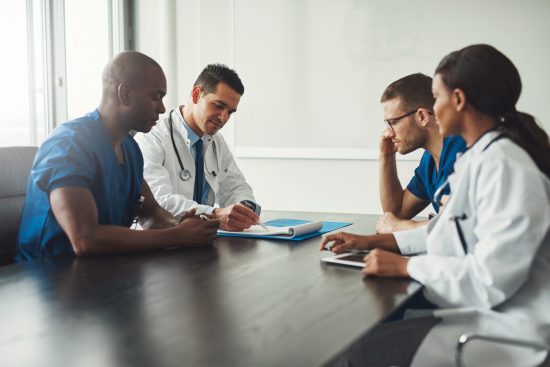 This month, The Center for the Future of the Health Professions will post another monthly op-ed column for 2022. Our columns represent strong, informed, and focused opinions on issues affecting the health professions' future. As mentioned previously, the center was developed to provide state, local, and national policymakers and health system stakeholders with accurate, reliable, and comprehensive data and research about the healthcare workforce to effectively plan for a sustainable future and make the best use of available resources.
This month features a discussion of Future of Diversity in the Health Professions and is authored by Clinton J. Normore, MBA, the vice president for Diversity & Inclusion at A.T. Still University. Normore leads a universitywide diversity effort, encompassing ATSU's seven graduate health professions schools in Kirksville, Missouri, St. Louis, Missouri, Mesa, Arizona, and Santa Maria, California, and an online school of graduate health studies. This work also touches community health centers nationwide. He works with faculty, staff, students, deans, and leadership at the University's highest levels in support of ATSU's mission of providing healthcare to the underserved and serving on many University committees.
Normore was a National Institution on Minority Health Disparities Scholar in 2015. He is a trained civil rights investigator and is a certified campus security authority. Since joining the ATSU community, Normore has been instrumental in developing a framework for diversity and a diversity strategic plan. Under his leadership, the University was the first health professions university to receive the coveted Higher Education Excellence in Diversity (HEED) Award in 2017. The University subsequently won the HEED Award for five consecutive years. The University was awarded the 2022 National Association of Diversity Officers in Higher Education (NADOHE) Excellence in Diversity award for a professional school. Normore has led the creation of the University's award-winning Dreamline Pathways program in 2016. Since August 2014, he has been a faculty member of ATSU's Missouri School of Dentistry & Oral Health and has been a faculty member of ATSU's Arizona School of Dentistry & Oral Health since 2021. Normore has also served as an instructor in the business department of Phoenix College and is a lead consultant for Ben Harrison & Associates on its community policing initiative, providing workshops for police departments in Arizona. He chairs the ATSU Advisory Council on Diversity and serves on many University-level committees and task forces.
Normore speaks broadly (e.g., workshops, presentations, keynote speaker) for campus constituents, professional organizations, corporations, and educational institutions. He is a proud member of Omega Psi Phi Fraternity and has a rich history of community service. He chairs the Phi Iota Chapter of Omega Psi Phi Fraternity's Community Oriented Policing Initiative Task Force. He is also a member of many professional organizations. He earned a master of business administration from Oklahoma City University and a bachelor of science degree from the University of Central Oklahoma. Now, he is pursuing a doctoral degree in graduate health education.
Normore was a member of the 1988 University of Kansas national championship basketball team. He also has served as a police officer, owned several businesses, and taught and coached at every school level, culminating as an assistant women's basketball coach for Oklahoma City University's 2012 national championship team.
We look forward to your comments.
Randy Danielsen, PhD, DHL(h), PA-C emeritus, DFAAPA
Professor & Director
Future of diversity in the health professions
Unless there are stark systemwide changes in health professions education, increased workforce diversity is not likely to occur. The primary barriers to improving workforce diversity are student access to graduate Health Professions Programs, (particularly medicine), institutional accountability, and the culture of these schools.1 Without a more diverse student body, there cannot be a more diverse workforce. African Americans and Hispanics represent only 11.8% of physician assistant (PA) matriculants compared to 32% of the U.S. population.2 A specific group among Black Indigenous People of Color (BIPOC) students in PA programs is a point of emphasis in this article. These historically underrepresented groups (HUGs) consist of Black/African American, American Indian or Alaska Native, Hispanic, Native Hawaiian, and Other Pacific Islanders.
There is some trepidation toward emphasizing access programs, particularly among predominantly White schools (PWIs), because of the lack of clarity around affirmative action. Affirmative action in the labor sector has been inappropriately associated with the education sector because of race-conscious admissions practices.3 Executive Order 11246 was signed by President Lyndon B. Johnson and derived from the Civil Rights Act of 1964. This piece of legislation required federal contractors, who do more than $10,000 of business, to take affirmative action steps to ensure employment and fair treatment of applicants and employees regardless of race, creed, color, ethnicity, sex, religion, or national origin.
Policies must be designed to create student groups that are more reflective of society.4 Diversifying the student body improves outcomes and provides a richer academic experience for all students. Health outcomes are improved, and health disparities are decreased with more workforce diversity.5 Nevertheless, affirmative action legislation progress has been challenged since the Supreme Court upheld the University of California v. Baake case (1978). Students For Fair Admissions (SFFA) v. Harvard University (2014) is among the more recent cases challenging race-conscious admissions. The Supreme Court has recently decided to hear this case. The longer these assaults on race-conscious admissions continue to glean credibility, the more likely student matriculation among HUG students will not meet the growing need for more workforce diversity.
Though affirmative action assaults persist, there are more tailwinds now toward improving workforce diversity through targeted recruitment efforts, and more importantly, open communication about the need for this kind of representation. PA programs attempt to address diversity in structure, curriculum, and marketing. However, institutions are still tethered to traditional access issues, education methods, and accreditation, which exemplifies culture superseding policy. PA programs still rely on standardized tests, GPAs, shadowing hours, and community service hours for student access measures.6 Though HUGs demographics are growing (particularly among Hispanics), medicine continues to track towards White and Asian providers. White and Asian students matriculate into PA programs at rates of 80.4% and 11.4% respectively.7 The perception of bias is embedded throughout the admissions process.8 The ARC-PA's most recent accreditation standard requires that programs demonstrate a commitment to diversity.9 Demonstrating a commitment to diversity, equity, and inclusion (DEI) can simply mean increasing HUG recruitment, creating a DEI position, or a diversity strategic plan. Accrediting bodies must hold institutions and programs accountable for outcomes that do not increase HUG representation.
Access to PA programs for HUG students remains a challenge. Access issues are predicated on the costs of education.10 The average undergraduate student loan debt for the class of 2020 was calculated to be $36,635.11 Black student loan debt averages $52,000.12 The vast majority of BIPOC students leave college with more loan debt compared to their White peers.13 The net worth of Black college students is almost $9,000 less than that of their White peers. The private loans of Black and Latino students are substantially higher than their White peers.14 The projected PA debt load is approximately $112,500.15
Access is also constrained by the traditional admissions practices in graduate health programs. Approximately 8.1% of HUG applicants matriculated into a PA program during the 2017-2018 cycle, compared to 91.8% of White and Asian applicants.16 If workforce diversity were a sincere goal, the percentage of HUG matriculants would be significantly greater than that among White and Asian groups.
The future of workforce diversity in the PA profession faces tremendous challenges that also exist in most health professions. Fewer HUG student matriculants, increasing costs, and reflective campus climates are among the more pressing issues in need of addressing. Health professions institutions must reassess their organizational culture to improve outcomes.17 Innovative changes to the selection process must be incorporated. HUG outreach must be increased at the K8 level to introduce the PA profession and nurture any interest beyond that point. Mitigating the bias embedded in student selections must be central to selection processes. Accrediting agencies should focus more on outcomes related to HUG applicants and employees.
The PA profession continues to be ripe with growth opportunities. In 2021, the US News & World Report rated the profession first on the best 100 jobs list and second on the best healthcare jobs list.18 In 2018, the PA profession was fifth on the fastest growing jobs in America list. A.T. Still University is recruiting and matriculating HUGs to improve workforce diversity. Approximately 39% of the ATSU-CHC inaugural PA class are HUG students. The ATSU-ASHS PA program matriculated approximately 31% of HUG students in its 2024 Class. ATSU's Dreamline Pathways program is designed to meet K8 students and their influencers where they are to introduce them to the health professions and nurture their academic growth beyond high school. Intentionality in health professions education is the only way to improve workforce diversity.
References
Cuenca JP, Ganser K, Luck M, Smith NE, McCall T, Diversity in the physician assistant pipeline: Experiences and barriers in admissions and PA School. The Journal of Physician Assistant Education: July 8, 2022 – Volume – Issue – 10.1097/JPA.000000000000442: doi.org/10.1097/JPA.0000000000000442
Cuenca JP, Ganser K, Luck M, Smith NE, McCall T, Diversity in the physician assistant pipeline: Experiences and barriers in admissions and PA School. The Journal of Physician Assistant Education: July 8, 2022 – Volume – Issue – 10.1097/JPA.000000000000442: doi.org/10.1097/JPA.0000000000000442
Miller C. Affirmative Action and its Persistence Effects: A New Perspective. California Management Review. 2019;61(3): 19-33. doi.org/10.1177/0008125619849443
Burke, Constance JD, MS, PA-C. Underrepresentation in Higher Education: Affirmative Action's Role in Bridging the Gap. The Journal of Physician Assistant Education: March 2021: 32(1), 54-57. doi.org/10.1097/JPA.
Mickey-Pabello D, Graces LM, Addressing Racial Health Inequities: Understanding the Impact of Affirmative Action Bans on Applications and Admissions in Medical Schools. American Journal of Education. 2018:125(1), 79-108. doi.org/10.1086/699813
VanderMeulen SMP-C, Snyder JAP-C, Kohlhepp WDhsMP-C, et al. Pipeline to the Physician Assistant Education (Lippincott Williams & Watkins). 2022;33(1) e1-e10. Doi:10.1097/JPA.0000000000000414
CASPA. (2022). The PA pipeline to practice: Applicant and matriculant data from CASPA™. Retrieved August 6, 2022, from https://paeaonline.org/wp-content/uploads/2020/10/paea-presentation-caspa-20200106.pdf
Cuenca JP, Ganser K, Luck M, Smith NE, McCall T, Diversity in the physician assistant pipeline: Experiences and barriers in admissions and PA School. The Journal of Physician Assistant Education: July 8, 2022 – Volume – Issue – 10.1097/JPA.000000000000442: doi.org/10.1097/JPA.0000000000000442
ARC-PA Accreditation Review Commission on Education for Physician Assistant, Inc. Accreditation Standards. http://www.arc-pa.org/wp-content/uploads/2022/03/Standards-5th-Ed-Mar-2022.pdf
VanderMeulen SMP-C, Snyder JAP-C, Kohlhepp WDhsMP-C, et al. Pipeline to the Physician Assistant Education (Lippincott Williams & Watkins). 2022;33(1) e1-e10. Doi:10.1097/JPA.0000000000000414
Hanson, Melanie. Student Loan Debt by Race. EducationData.org. June 13, 2022, https://educationdata.org/student-loan-debt-by-race
Hanson, Melanie. Student Loan Debt by Race. EducationData.org. June 13, 2022, https://educationdata.org/student-loan-debt-by-race
Ishak, Natasha. How would $10,000 in student loan debt forgiveness impact BIPOC borrowers? May 10, 2022, https://prismreports.org/2022/05/10/10000-student-debt-forgiveness-bipoc-borrowers/
Hanson, Melanie. Student Loan Debt by Race. EducationData.org. June 13, 2022, https://educationdata.org/average-graduate-student-loan-debt
Pasquini, Stephen, PA-C. How Much Does it Cost to go to Physician Assistant (PA) School? 2022. Retrieved August 6, 2022, from https://www.thepalife.com/how-much-does-it-cost-to-go-to-physician-assistant-pa-school/#:~:text=The%20Average%20Cost%20Across%20all,assistant%20program%20is%20%2488%2C6777
CASPA. (2022). The PA pipeline to practice: Applicant and matriculant data from CASPA™. Retrieved August 6, 2022, from https://paeaonline.org/wp-content/uploads/2020/10/paea-presentation-caspa-20200106.pdf
Tiffany Jana, Mathew Freeman. Overcoming Bias: Building Authentic Relationships Across Differences. Vol First edition. Berrett-Koehler Publishers; 2016. Accessed August 18, 2022. https://search.ebscohost.com/login.aspx?direct=true&AuthType=shib&db=nlebk&AN=1231888&site=eds-live
U.S. News & World Report. Best Health Care Jobs. 2022. https://money.usnews.com/careers/best-jobs/rankings/best-healthcare-jobs