Center for the Future of the Health Professions May 2021 column: CME in the Time of COVID–19
Posted: May 1, 2021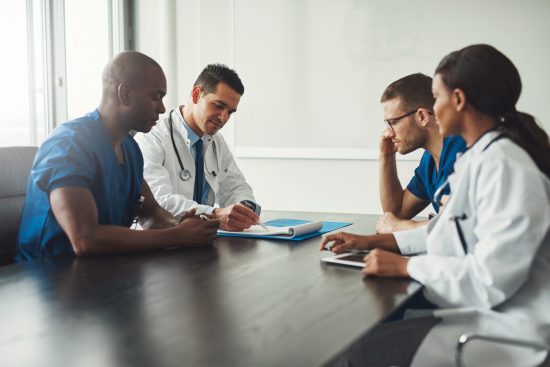 This month, The Center for the Future of the Health Professions will be posting another monthly op-ed column for 2021. Our columns represent strong, informed, and focused opinions on issues that affect the future of the health professions. As mentioned in the past, the center was developed to provide state, local, and national policymakers and health system stakeholders with accurate, reliable, and comprehensive data and research about the healthcare workforce, so they can effectively plan for a sustainable future and make the best use of available resources.
This month features a discussion of Continuing Medical Education (CME) in the time of COVID-19. The authors are Jan Baum, MA, director of continuing education at A.T. Still University (ATSU), and Amanda Weaver, MBA, program administrator for ATSU's Center for the Future of the Health Professions. During the past year, many of us have been affected by the significant changes (including cancellations) of important continuing medical education events. We encourage readers to share their thoughts after reading this important piece.
The role of continuing medical education (CME) is to provide clinicians with the latest knowledge and skills required to perform at the best of their abilities. In addition to advocacy, medical professional societies' and associations' fundamental role is to provide high-quality education through digital resources, educational meetings, and medical journals.1 CME is also provided by medical schools and hospitals accredited for CME. CME is required to meet state licensing and certification requirements, and membership in specialty professional organizations.2
As early as 2007, a white paper titled "Virtual Environment for Continuing Medical Education" reported the rapid development of communication and information technologies offering the possibility to move up-to-date medical information through the internet to the physicians.3 In 2017, an article in The DO's e-letter described how continuing medical education was evolving to address physicians' varying learning styles and that there will always be a market for multiple CME formats. Still, the proportion of learners who prefer each type may shift.4
Brian McGowan, PhD, FACEhp, on March 24, 2020, wrote an article titled "Continuing Medical Education in a Time of Social Distancing" on the blog from the Alliance for Continuing Education in the Health Professions (ACEHP). He stated while the continuing medical education community offers educational interventions in a variety of formats, live CME meetings made up more than 60% of certified activities, more than 84% of hours of instruction and nearly 12 million live, face-to-face learning experiences for healthcare providers. Almost all of this creates risk in the time of social distancing.5
Many clinicians are now only able to complete CME programs online. Those who used to prefer participating in live meetings or attending conferences to receive their CME credits had to adapt and find alternatives.6 So did the CME providers.
COVID-19 bolstered the importance of CME because up-to-date information and education were vital. Education went from lectures given in person with PowerPoint as a visual aid, to urgent necessity overnight after COVID-19 hit. Most organizations adapted quickly to a difficult situation and the technology they had in place, while in many cases not ideal, sustained them. Technology was not going to be a barrier to continued success, but how to implement the technology and how value is delivered from this technology.7
The American College of Osteopathic Family Physicians was featured in an April 8, 2020, ASAE Center for Association Leadership publication. It was titled "How an Association Turned Its Major Conference into a Virtual Event in a Week." Within 24 hours of notifying registrants and members of the board's decision to cancel, a webpage was created to give the registrants choices on how to handle their registration. Even though they were expecting 2,000 attendees for the live event, there were 1,050 people registered for the virtual event. They used Zoom's webinar platform for the virtual conference and allowed attendees to access content post-event in a recorded format. The vast majority rated the virtual meeting experience and the quality of CME programming as excellent.8
Association Laboratory conducted a survey among a various types of associations, which found that 65% of respondents who cancelled lacked insurance to cover incurred costs, and 30% did not have event insurance. Sixty-five percent of respondents from associations had fully refunded the registrant fees and one out of five provided a complimentary future registration. Sponsor and exhibitor contributions were returned at a substantially lesser degree. These cancellations' financial impact affected association bottom lines: 72% of respondents indicated their total annual revenue would decrease in 2020, and more than 27% indicated revenue would also be down in 2021. Membership dues typically are only 30% of associations' revenue. Association Laboratory conducted a global environmental scan in December 2019, and found that 61% of respondents said that they were expanding online or virtual education.9
Most professional associations have an annual meeting that includes a house of delegates meeting for policy making and other meetings in addition to CME programs. The political action committee (PAC) and the profession's schools alum receptions are standard at these meetings, and some associations cancelled or rescheduled these meetings and receptions. There was no disruption in board of directors' and standing committee meetings because Zoom technology has been an effective platform.
Two osteopathic medical association professionals were interviewed who said that there was no adverse impact to their organizations net income of their organizations in 2020. It was possibly related to the increased number of participants in the online CME platform and not having hotel, food, and beverage costs. But perhaps it was because they either had virtual platforms in place, or they were poised for a different type of distance learning.
David Walls, executive director of the Osteopathic Physicians and Surgeons of Oregon (OPSO) stated that OPSO first offered virtual CME around 2012, which was a live streaming option in addition to an OPSO in-person live event. He said that upfront technology costs to a smaller association varies depending on the attendees' setup and number. The costs can run anywhere from the low end with a simple setup of a webcam with Zoom ($1,000), to a fully integrated platform which is as high as up to $15,000.
Walls stated that the Association of Osteopathic State Executive Directors (AOSED) has an online CME platform mainly designed for on-demand CME and can also be used for live events. Small states or any AOSED members that may not want to put on a program or can't afford to develop a virtual platform, can advertise the site and get a portion of revenue from members from their state who purchase CME. Walls also commented COVID-19 is impacting professional associations outside of CME. He said associations have become more important during COVID-19. OPSO quickly put together several resources for telemedicine, COVID-19 emergency rules and advocacy, particularly in telemedicine reimbursement and liability.
Teresa Roland, Director of Education at the Arizona Osteopathic Medical Association (AOMA), stated that AOMA was already planning to record the convention CME lectures before the pandemic. However, with COVID-19 restrictions imposed, AOMA had the choice to completely cancel the annual convention, like so many associations, or convert to virtual conference. In the best interest of serving those who have come to rely on the quality CME AOMA offers, a production company was hired to manage the complexities of using a real-time videoconferencing service with physicians who delivering their lectures either at home or in the AOMA office. Attendees were also able to watch the lectures for up to 30-days after the event date. She also stated that there is a cost for live streaming with pricing based upon the number of days streamed, and further commented that virtual CME is here to stay.
ATSU's experience as a University CME provider
The year 2020 and spring 2021 proved challenging for ATSU's Continuing Education department and the healthcare professional audience they serve. COVID-19 wreaked havoc on the normally predictable and well-planned CME world. CME departments have experienced financial loss from broken hotel contracts that resulted in tens of thousands of dollars in cancellation fees.
In the past, ATSU hosted an average of six live CME/CE (continuing education) events annually, offering American Osteopathic Association (AOA) Category 1-A credits. Osteopathic physicians are still required to earn these desirable credits, but obtaining this CME credit level can be a challenge.
With CME moving almost exclusively to online virtual platforms during the COVID-19 pandemic, ATSU now plans to transition to a hybrid format as quarantines and guidelines are relaxed. Both in-person and virtual events can produce the means to meet the professionals' practice gaps, but many have expressed their displeasure with virtual only events.
While offering virtual CME, networking opportunities with colleagues is lost, as is the opportunity for medical professionals to leave their stressful and demanding practices for much needed time away. Lack of technological expertise plays a significantly large role in the physicians' ability and desire to participate in virtual-teaching opportunities. CME staff must play a significant role in monitoring and aiding the inexperienced non-technologically savvy physicians during virtual learning programs.
Also, it has been a challenge to convince speakers that lecturing via Zoom, whether live or pre-recorded, is an easy and effective means to deliver quality education. Even with ATSU CME staff readily available to assist those speakers during the virtual learning sessions, many lack confidence in this delivery method.
ATSU's CME attendees' range in age, are from all over the U.S., and have reported their dissatisfaction with an exclusively virtual format. At this time, ATSU's Continuing Education department will adapt and plan to hold hybrid events in the future, thus providing the attendees a choice to meet their individual needs. The goal of ATSU's Continuing Education department has not changed – to provide excellent educational opportunities for all physicians and healthcare professionals.
Hybrid conferences on the rise
Although not new, hybrid conferences may be the new normal for 2021 and beyond. These events are an in-person conference that accommodates virtual attendees. Hybrid meetings make new demands on staffing, scheduling, pricing, exhibitors, attendee engagement, and more.10 This is the wave of the future. Innovative ideas will be explored to create a compelling meeting. The time is now.
References
[1] BioMed Alliance. May 28, 2019. The Future of Continuing Medical Education. European Association for the Study of the Liver. https://easl.eu/news/future-of-continuing-medical-education-
2 Kleinstrever, Joshua. CME: It's Not Just for License Renewal. The Pulse. July 14, 2020. https://invitahealth.com/blog/cme-not-just-for-license-renewal
3 Bolboaca, S and Jantschi, L. Virtual Environment for Continuing Medical Education. January 2007. Electron J. Biomed 2007; 2:19-28.
4 Selby, Laura. The Future of CME: Interactive, online and on-demand. March 3, 2017. thedo.osteopathic.org/2017/03/the-future-of-CME-interactive-online-and-on-demand.
5 McGowan, Brian. Continuing Medical Education in a Time of Social Distancing. March 24, 2020. Alliance of Continuing Education in the Health Professions. almanac.acehp.org/p/bl/et/blog=2&blogid=597
6 Thompson, Brooke. Continuing Medical Education (CME): Navigating Virtual Learning During the Pandemic and Beyond. October 12, 2020. https://www.locumtenens.com/resourcecenter/continuing-medical-education-cme-navigating-virtual-learning-during-the-pandemic-and-beyond
7 Boylan, Lisa. Past Versus Present. Fall 2020. https://associationsnow.com/2020/21/past-versus-present
8 Moore, Bob. How an Association Turned It's Major Conference into a Virtual Event in a week. April 18,2020. https://www.asaecenter.org/resources/articles/an_plus/2020/april/how-an-association-turned-its-major-conference-into-a-virtual-event-in-a-week.  
9 Bergerson, Paul. New Research on COVID-19's Impact on Associations Point to the Way Forward. March 2020. https://www.pcma.org/covid-19-researach-impact-associations-future
10 Athitakis, Mark. The Rise of the Hybrid Meeting. November 1, 2020 https://associationsnow.com/2020/the-rise-of-the-hybrid-meeting