Center for the Future of the Health Professions July 2022 digest
Posted: July 21, 2022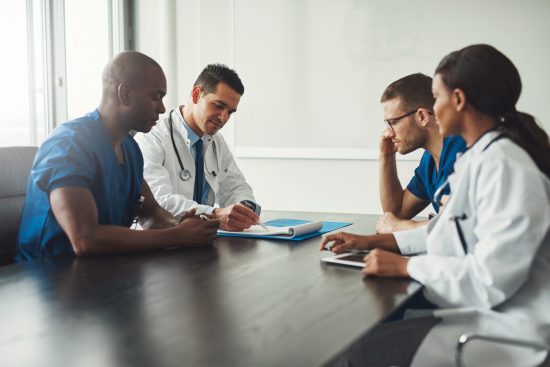 This month, The Center for the Future of the Health Professions will post another monthly op-ed column for 2022. Our columns represent strong, informed, and focused opinions on issues affecting the health professions' future. As mentioned previously, the center was developed to provide state, local, and national policymakers and health system stakeholders with accurate, reliable, and comprehensive data and research about the healthcare workforce to effectively plan for a sustainable future and make the best use of available resources.
This month features a discussion on ATSU's innovative education of physician assistants (PAs). Undoubtedly, organizing all of the aspects necessary to ensure PA students receive a quality educational experience in a new program is daunting. These tasks range from facilities creation to curriculum planning, accreditation compliance demands, and financial projects. This article describes A.T. Still University's (ATSU) work creating a new program on the central coast of California in partnership with the National Association of Community Health Centers (NACHC).
The author of this article is Ted Wendel, PhD. Dr. Wendel is the senior vice president for university planning and strategic initiatives at ATSU. His prior positions include vice president for Arizona operations and special assistant to the executive vice president for strategic initiatives, and associate provost for the Arizona campus of ATSU. He received his undergraduate degree from St. Andrews College in Laurinburg, North Carolina, in 1969. He has both a master's (1973) and doctorate (1974) in pharmacology from Wake Forest University in Winston-Salem, North Carolina, where he served on the medical school faculty for six years. While at Wake Forest, Dr. Wendel was one of the authors of the first published curriculum for physician assistants. In 1979, he accepted a position as an associate professor of pharmacology at ATSU's Kirksville College of Osteopathic Medicine (ATSU-KCOM). Dr. Wendel has published several papers in neuropharmacology and the neural mechanisms of hypertension. In 1986, he moved to the College of Osteopathic Medicine of the Pacific in Pomona, California, where he was a professor of pharmacology. In 1990, he was appointed as the founding dean of the school of allied health and subsequently the chancellor of the Chico campus of the Western University of Health Sciences. In 1998, Dr. Wendel returned to ATSU-KCOM to serve as the associate provost of the ATSU-Mesa campus. For the past 20 years, Dr. Wendel has explored innovative approaches to educating health professionals. Among these projects was the first successful online master's degree in nursing. As an academic leader on ATSU's Mesa campus, Dr. Wendel has created an environment that facilitates the incorporation of state-of-the-art technology into the education and training of health care professionals
We hope you enjoy this article and look forward to your comments.
Randy Danielsen, PhD, PA-C Emeritus, DFAAPA
Professor & Director
The Center for the Future of the Health Professions
A.T. Still University
Innovative education of physician assistants (PAs): The past is prologue
Creating a new health professions program is challenging to say the least. Doing it in the midst of a pandemic borders on insanity.
Organizing all aspects necessary to ensure PA students receive a quality educational experience in a new program is daunting. These tasks range from facilities creation to curriculum planning, accreditation compliance demands, and financial projects, to name just a few.
Indeed, it is possible to build upon existing program templates as an organizational framework. However, simply doing things the way they have always been done seems to ignore the ever-present constant of change. Rethinking health professions education demands reconsideration of decades-old education models to prepare students as future healthcare professionals.
Early in 2018, ATSU elected to start its second PA program in central California in partnership with the NACHC. NACHC is charged with providing access to quality medical care for those who face physical and/or financial barriers. Community health centers are the most extensive health care system in the U.S. and are the primary source of health care services for 30 million people. However, for decades, community health centers have been challenged to meet their growing needs for healthcare professionals. As an integral component of its mission, ATSU is committed to addressing this shortage of healthcare providers facing community health centers.
More than 30 years ago, Steven Covey wrote the book Seven Habits of Highly Effective People1. These powerful habits provide a basic framework (and served as a prologue) for planning a new PA program. One habit became the "true north" dictating the structure and function of this new program. "Beginning with the end in mind" meant starting with a mission statement clearly articulating the desired outcome. A mission statement that reflected the workforce needs of community health centers across the nation.
At the beginning of the planning process, the faculty developed a program mission statement that built on the University's mission and provided a unique identity around which virtually all other decisions were woven. The mission statement is as follows:
"The Central Coast Physician Assistant program educates culturally-humble physician assistants to serve primary care needs of underserved communities."
This simple mission statement reflects a commitment to educate a diverse population of PAs who reflect the diverse communities they will serve. The graduates will also understand the powerful impact of cultural humility as clearly defined by the American Psychological Association as a therapeutic framework for engaging diverse clients2. The Central Coast Physician Assistant (CCPA) program's mission mirrors the mission of community health centers as the principal provider of primary care in underserved communities.
Inherent in the CCPA program's simple mission statement are significant assumptions concerning the selection of students and the approach to their education. Creating a student selection process that identifies students committed to service in underserved communities and who reflect the patient populations in these communities is the first step. Traditional student selection processes that rely heavily on a student's previous academic accomplishments represented substantial barriers that prevented the identification of well­ qualified candidates from being considered. Creating a process that selected a diverse class of students with the ability to succeed in a rigorous academic program became the first task in establishing CCPA.
Understanding the intricacies of the selection process and why those details directly related to the accomplishment of the mission greatly exceed the constraints of this communication. Simply, the process reflected several assumptions:
The value system reflected in the mission statement should be applied in the selection process.
Within certain limits, previous academic performance was a barrier to diversity and is not correlated with the accomplishment of the mission.
Previous academic accomplishments blinded admission decisions regarding acceptance.
An applicant's descriptions of their commitment to the mission must be validated by documentation of their actions.
The process results are evident in selecting a cohort of students who, in many respects, mirror the populations served by community health centers across the nation. A unique description of the class is shown in the following word clouds.
Establishing a curriculum for a new PA program must address the many changes occurring over the last two decades. Technology's positive impact on delivering educational material was foundational in planning the CCPA curriculum. In addition, the COVID pandemic made it evident that relying on a single physical location as the focal point was no longer possible or desirable. Fortunately, technological advances in content delivery integrated with frequent interpersonal interaction makes it possible to deliver and support students as they progress through a curriculum.
Identifying and hiring faculty who understood and embraced the role of a mentor was critical to establishing a new curriculum. The primary role of the faculty was to help students shape their learning experience and recognize and evaluate the vast amount of knowledge readily accessible using widely available inexpensive technology.
Faculty structured goals, objectives, and learning activities guiding students toward relevant medical content. The faculty were readily accessible to help students both on-site and online as they sought answers to questions. Significantly, the faculty took great care not to lecture, but to support students as they engaged in the discovery of the knowledge necessary to solve a structured set of clinical and professional problems. This approach was selected because it models the behavior of practicing healthcare professionals.
Small group learning (five students per group) was the dominant educational delivery strategy. Once again, using a past strategy initially implemented at Wake Forest University3 in the early 1970s served as the foundation for planning this new PA program. The small group approach was selected for several reasons; chief among them was the importance of serving as a professional practice model. Small groups also promote peer-to-peer learning and require instructors to engage as mentors, guiding students to content, rather than lecturers who become the primary provider of content.
The program also adopted a solid commitment to assessment of both student progress and its link to program administration. Formative assessment of student learning and progress occurs at least three times weekly. These assessments are used to evaluate individual student progress and the success of the small groups. Students quickly learned that assessments are a constructive component of the learning process both during their education and as part of their professional life.
The CCPA program also reflected its commitment to underserved communities by emphasizing community health center practice in all aspects of the curriculum, including the clinical phase of PA education. With assistance from NACHC, over 20 community health centers were identified as sites for PA student clinical education experiences. Small groups of students (approximately five) were assigned to each community health center location, where they spent 35 weeks rotating through seven required student clinical education experiences. At each site, a practicing clinician (frequently a PA) was hired as a part-time regional director of PA education, serving as an academic coordinator and mentor for students at the site.
The program is entering its second year. Much has been learned and will be learned over the next few years. The accomplishments of the past few years are mainly due to support from the University and the work of a group of faculty and staff who have dedicated themselves to the program's success and its students. A commitment to assessment and evaluation will continue to refine future iterations of an innovative PA program. The experience has clearly demonstrated that innovation and building on lessons learned over the last few decades can transform health professions education in the future.
References:
1. Covey, S., 1989. The seven habits of highly effective people. New York: Simon and Schuster.
2. Mosher, D. K., Hook, J. N., Captari, L. E., Davis, D. E., DeBlaere, C., & Owen, J. (2017). Cultural humility: A therapeutic framework for engaging diverse clients. Practice Innovations, 2(4), 221–233. https://doi.org/10.1037/pri0000055
3. Andersen, K et al. (1976) Introduction to Medical Science for Clinical Practice: A Self-Instruction/Tutorial Curriculum, Chicago, Illinois, Yearbook Medical Publishers