Center for the Future of the Health Professions Dec. 2022 digest
Posted: December 7, 2022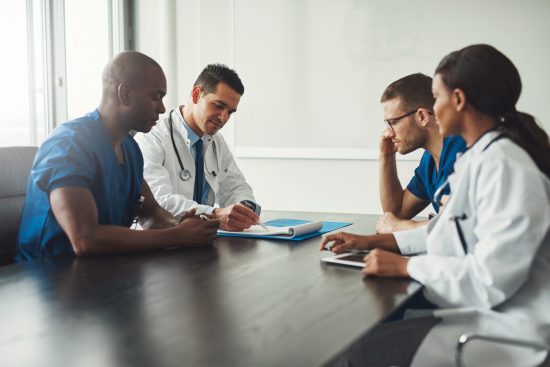 This month, The Center for the Future of the Health Professions will post the last monthly op-ed column for 2022. Our columns represent strong, informed, focused opinions on issues affecting the health professions' future. As mentioned previously, the center was developed to provide state, local, and national policymakers and health system stakeholders with accurate, reliable, and comprehensive data and research about the healthcare workforce to effectively plan for a sustainable future and make the best use of available resources.
We will start this month's digest off with a hearty congratulations to Dr. Leonard B. Goldstein, a member of the steering committee for the Center for the Future of the Health Professions, for his co-authorship of the textbook "A Guide to Dental Sedation" published in 2022 by Quintessence Publishing Company. This book was published as a reference guide for dental students and practicing dentists to bridge the gap between classroom instruction and the actual application of various sedation methods in different specialties. Congratulations, Dr. Goldstein!
This month we are stepping out of our comfort zone of discussing the health professions offered by ATSU. This month features a discussion of Podiatric Medicine: Past, Present, & Future by Dr. Larry Zonis, DPM. Dr. Zonis practices in Scottsdale, Arizona, and is affiliated with HonorHealth Shea Medical Center. He graduated from Temple University with a Bachelor of Science in biology in 1968 and subsequently completed his podiatric medical education at the Temple University School of Podiatric Medicine (formally known as Pennsylvania College of Podiatric Medicine) in 1972. Upon completing his residency at the St. Luke's and Children's Medical Center, he moved to Arizona in 1974. Dr. Zonis has been proudly serving the communities of Mesa, Phoenix, and Scottsdale, Arizona, for the past 49 years. He is a fellow of the American College of Foot and Ankle Surgeons and a diplomate of the American Board of Foot and Ankle Surgery.
Dr. Zonis' current focus is treating his patients compassionately and professionally. He provides comprehensive medical and surgical care for various foot and ankle conditions, including common to complex disorders and injuries affecting people of all ages. He is qualified to detect early stages of diseases that exhibit warning signs in the lower extremities, such as diabetes, arthritis, and cardiovascular diseases. In addition, he manages foot conditions that may threaten a patient's overall health.
According to the U.S. Bureau of Labor Statistics, there are approximately 11,200 employed podiatrists in the U.S. Employment of podiatrists is projected to grow 2% from 2021 to 2031, slower than the average for all occupations. Despite limited employment growth, about 300 openings for podiatrists are projected each year, on average, over the decade. Most of those openings are expected to result from the need to replace workers who transfer to different occupations or exit the labor force through retirement.
We look forward to your comments on this month's digest.
Randy Danielsen, PhD, DHL(h), PA-C Emeritus, DFAAPA
Professor & Director
The Center for the Future of the Health Professions
A.T. Still University
Podiatry/podiatric medicine: Past, present, and future
Larry Zonis, DPM
Introduction and background
To understand podiatry is to define podiatry. Podiatry is a specialized branch of medicine that deals with diagnosing and treating lower extremity diseases and deformities, primarily of the foot and ankle.6
Notoriously and historically, in the United States, podiatry can be traced back to Isachar Zacharie, a non-formally trained British chiropodist. He was a friend and confederate of Abraham Lincoln4 and was utilized as an envoy to "open peace talks with the Confederate government." He was also Abraham Lincoln's private foot specialist.5, 8
Chiropody is a Latin word indicating the treatment of the hand and foot. Podiatry is also Latin-based but is more specific to the foot. Ergo, the change in name from chiropody to podiatry, at least in the United States. The term chiropody was coined by the British in the 18th century and is still utilized in England today.6, 7 In the United States, the name was changed in 1961 to be more reflective of the profession.
Treatment of foot disorders can be traced back to ancient Egypt. However, the practice of podiatric medicine has changed and evolved dramatically since the last half of the 20th century. Back in the day, podiatrists were relegated to conservative treatment that included the trimming of corns, calluses, and toenails. In addition, local anesthesia was minimally utilized, and surgery, as we know it today, was not performed.
The scope of education has expanded from 90 to 120 hours of undergraduate education, consisting of studies comparable to pre-medical school admissions. There are currently 10 podiatric medicine schools within the United States' continental borders. Once a student has been interviewed and admitted to a school of podiatric medicine, four years of intense medical education follow. The Doctor of Podiatric Medicine (DPM) degree is conferred upon all graduates. The courses are often concomitantly taken with students matriculating in osteopathic or allopathic medical schools.9, 10
The podiatric curriculum includes, along with basic sciences, courses in dermatology, pathology, radiology, infectious disease, wound care, neurology, orthopedics, podiatric medicine, anesthesia, surgery, trauma, physical medicine and rehabilitation, and behavioral sciences. Postgraduate education includes three to four years of clinical training and rotations through multiple hospital/clinical facilities. The scope of podiatric practice varies from state to state, according to the prevailing state laws. States do require postgraduate education, which is amply provided by the profession. Not all podiatrists are certified as surgeons, just as not all MD/DO physicians are not surgically certified. Many podiatrists are qualified in podiatric pathology, dermatology, and forefoot and rear foot surgery. Podiatry is now an accepted and integral part of lower extremity wound care, working closely with internal medicine, infectious disease specialists, and orthopedic and vascular surgeons. Podiatrists are involved in clinical research to advance wound healing. They provide a significant portion of diabetic foot care and limb salvage. Podiatry provides postgraduate CAQ (certified advanced qualification) boards to those who wish to obtain advanced certification. Podiatrists participate and provide leadership to hospital staff and teaching facilities, advancing medical care.11, 12
Podiatry has come a long way since the "corn and callus" days, becoming a welcomed addition to the worldwide medical community.
The future: Pluses and minuses
Type 2 diabetes is increasing, resulting in foot complications that lead to poor quality of life and increased cost of living. In 2019, 463 million people worldwide were living with diabetes, and this is estimated to increase to 700 million by 2045. Unfortunately, four out of five diabetics live in low- or middle-income countries where podiatry services are usually lacking.1 In addition, up to 70% of all non-traumatic lower leg amputations occur in patients with diabetes.2
Podiatry plays a significant role in the prevention of many lower extremity ulcers. With early assessments, treatments, and timely referrals, amputations can and will be avoided.
Challenges faced by podiatrists in Arizona include:
Arizona Health Care Cost Containment System (AHCCCS) (Medicaid) was not paying for podiatry services.
A scope of practice issues, especially surgery above the ankle.
A significant success in Arizona was in 2014 when podiatrists were deemed as physicians in addition to MDs, DOs, naturopaths, and chiropractors.
There are currently ten colleges of podiatric medicine:
Arizona College of Podiatric Medicine at Midwestern University
Barry University of Podiatric Medicine
California School of Podiatric Medicine at Samuel Merritt University
Des Moines University College of Podiatric Medicine and Surgery
Kent State College of Podiatric Medicine
New York College of Podiatric Medicine
Temple University School of Podiatric Medicine
Western University of Health Sciences College of Podiatric Medicine
Dr. William M. Scholl College of Podiatric Medicine at the Rosalind Franklin University of Medicine and Science
University of Texas, Rio Grande Valley
While podiatric physicians find their practices encroached upon by other professionals seeking to expand their patient bases and services provided, and despite this turbulent climate, podiatric medicine is well equipped for survival and the ability to survive. By holding on to the basic tenets of practice necessary to satisfy a growing and demanding patient population, safeguarding and continuing to embrace services vulnerable to the encroachment of others, and moving toward parity with allopathic and osteopathic medicine, podiatric practices can be well assured that the future remains vital for their chosen profession.
References
Demling RH, Niezgoda JA, Haraway GD, Mostow, EN: "Small Intestine Wound Matrix and Full-Thickness Venous Ulcers: Preliminary Results"; Wounds; 2021: 33(9)
International Diabetes Foundation. IDF Diabetes Atlas. 10th Edition; International Diabetes Foundation; 2021
Moulik PK, Mtonga R, Gill GV: "Amputation and Mortality in New-Onset Diabetic Foot Ulcers stratified by Etiology"; Diabetes Care; 2003; 26: 491-494
Segal C: "Isachar Zacharie: Lincoln's Chiropodist"; https://www.jstor.org/stable/43058814
Feldberg M: "Isachar Zacharie: Lincoln's Chiropodist and Spy"; https://www.sdjewishworld.com/2020/02/13/isachar-zacharie-lincolns-chiropodist-and-spy/
New York State Podiatric Medical Association http://www.nyspma.org
American Association of Colleges of Podiatric Medicine http://www.aacpm.org/
Isachar Zacharie https://www.jewishvirtuallibrary.org/jsource/biography/zacharie.html
New WUCPM Program Prepares Podiatrists for the Future with Full Curriculum Equivalency https://podiatry.com/news/138/New-WUCPM-Program-Prepares-Podiatrists-for-the-Future
About Podiatry http://www.apma.org/MainMenue/AboutPodiatry.aspx
Council on Podiatric Medical Education, Standard CPME 320, Accreditation of Podiatric Medicine and Surgery Residencies https://cothweb.org/wp-content/uploads/CPME320finalJune2015.pdf
State Scope of Practice Provisions for Podiatric Foot and Ankle Surgeons https://www.acfas.org/uploadedFiles/Physicians/Health_Policy_and_Advocacy/Scope_of_Practice/Content/State%20of%20Practice.pdf