Center for the Future of Health Professions May 2023 digest
Posted: May 17, 2023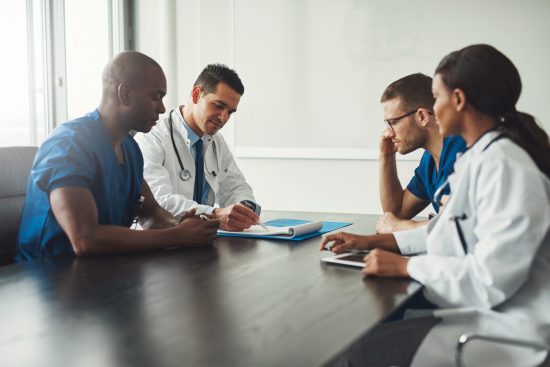 The Center for the Future of the Health Professions will post its fifth monthly op-ed column for 2023. Our columns represent strong, informed, focused opinions on issues affecting the health professions' future. As mentioned, the center was developed to provide state, local, and national policymakers and health system stakeholders with accurate, reliable, and comprehensive data and research about the healthcare workforce to effectively plan for a sustainable future and make the best use of available resources.
This month we feature a discussion on using standardized patients in health professions education. Standardized patients (SPs) are used in healthcare professions education to simulate a realistic patient experience. SPs can help students learn how to effectively interact with patients, practice communication skills, and gain clinical experience. SPs also help to ensure that all students have the same learning experience and that their assessments are fair. Additionally, SPs provide a safe and controlled environment where students can practice their skills and develop confidence. Finally, students are better equipped to handle real-life patient interactions by interacting with SPs.
This month's column will turn to our own Mandy Weaver as she interviews her husband, George Cohen, an SP for over two years, in a Q&A entitled "Confessions of a retired standardized patient." George was a community leader and a senior partner with CPA firms. The majority of his clients were physicians and other health care professionals.
We look forward to your comments on this month's digest.
Randy Danielsen, PhD, DHL(h), PA-C Emeritus, DFAAPA
Professor & Director
The Center for the Future of the Health Professions
A.T. Still University
Confessions of a retired standardized patient
Howard Barrows, MD, was the first to use standardized patients (SPs) in 1963. He initially referred to those SPs as "programmed patients." They have been called by several names since, and the more generic term is "simulated individuals," especially in nonmedical fields, such as education, spiritual care, law, police training, and many others. Since Dr. Barrows trained those first SPs, human simulation has become an integral part of medical education worldwide.1
A.T. Still University's Kirksville College of Osteopathic Medicine (ATSU-KCOM) in Kirksville, Missouri, has documentation of SP cases as early as 1995, according to Lisa Archer, director of simulation and performance assessment. Lorree Ratto, PhD, associate professor at A.T. Still University's School of Osteopathic Medicine in Arizona (ATSU-SOMA) began the SP program officially for SOMA's inaugural class of 2011.
ATSU's Arizona-based Interprofessional and Culturally Proficient Standardized Patient Experience Center opened in 2019. Lisa McNeil is the center's manager. The facility is open to ATSU's medical, dental, physician assistant, physical therapy, and occupational therapy students. One technological tool utilized by the center is the GERonTologic suit, which simulates the effects of aging, teaching students empathy for older adult patients.2
This article features an interview between ATSU's Center for the Future of the Health Professions program administrator Mandy Weaver and her husband, George Cohen, CPA, who was an SP for over two years. He also participated in the SP programs at Arizona College of Osteopathic Medicine – Midwestern University and Southwest College of Naturopathic Medicine. Cohen is a recognized community leader and ambassador for the osteopathic medical profession in Arizona.
What drew you to the SP program?
Cohen: I was a budding actor after retiring from a successful professional accounting career. Soon after my retirement, I talked to someone who was an SP who told me about the ATSU program. I thought, "What better way is there to hone my skills for acting?" Working with students was also appealing.
Were there other actors in the program?
Cohen: There were many actors and other people looking to make a few extra bucks. So, it was a cross-section of individuals. Kudos to the program faculty and staff for getting a diverse population with whom the students can learn.
Were you familiar with medical education?
Cohen: I really wasn't familiar despite having a career surrounded by physicians and having a spouse who was deeply involved in the medical profession as the executive director of the Arizona Osteopathic Medical Association. So, I wasn't aware of the educational rigors a budding physician would be going through, particularly in year one.
Were there any surprises about medical education?
Cohen: I was pleased and pleasantly surprised to see how much attention and effort is given to teaching the students empathy. When I grew up, most physicians were very stiff and clinical. Having a physician who has a more caring attitude and takes an interest is much more reassuring to their patient.
Were there any surprises with the students?
Cohen: I was surprised by the diversity of the students. There were older students who had some type of medical background, such as PAs and EMTs. There were also "legacy" students whose parents or other family members were physicians. In addition, there were international students from other cultures with more poverty and different healthcare systems than U.S. students have experienced.
What was the interaction between the students and faculty and staff?
Cohen: The interaction was incredible and a confidence-building relationship. The faculty and staff were genuinely interested in the students. A special thanks to the ATSU team Lisa McNeil and Dr. Lorree Ratto.
Did you have a script?
Cohen: Everything was scripted, and you had to stick to the script – no improvising. The scripts indicate the age and symptoms of the patient and social determinants, such as a homeless single mother. The students took the history and examined the SPs. My favorite symptom was kidney stones because the SPs were told that if the student touches the kidney, it is ok to scream and reach for the roof. Pretending to pass out was also a valuable acting experience.
Did they ask their patients about their current environment?
Cohen: Yes, such as:
Are you depressed?
Do you interact with other people?
Can you walk to a pharmacy to get meds? Do you know the meds you are using?
Are you eating every day?
I understand that the SPs also evaluate the students from a patient's perspective.
Cohen: There was a checklist that included:
Washing their hands when they entered the exam room.
Knocking on the exam room door before entering.
Helping the patient get on and off the exam table.
Being kind and courteous.
Facing the patient and making eye contact when talking to them.
Taking a thorough history.
Asking for social determinants information.
Note: An instructor can watch the exchange between the SP and the student from a nearby video monitor room. Later, the student and the instructor can view the video and discuss ways to improve exam skills.
What is the benefit of the SP program to the students?
Interacting with a human being is much better than a simulated encounter. You are eye to eye. That is a good life lesson when they learn how to communicate and listen.
What impact did you have on the students and what impact did they have on you?
The impact they had on me was to elevate my medical education and be aware of things going on in my body. I learned that medicine, in general, requires educated guesswork. My expectation that healthcare professionals can just solve things is unrealistic. I must take responsibility for myself in terms of being aware of issues and being able to communicate those issues. I need to take better care of myself.
The ATSU SP program is incredibly well run; I am sure it is a role model for other schools. I really hope that I made a difference in the student's education. It was a wonderful experience.
References