Center for the Future of Health Professions March 2023 digest
Posted: March 23, 2023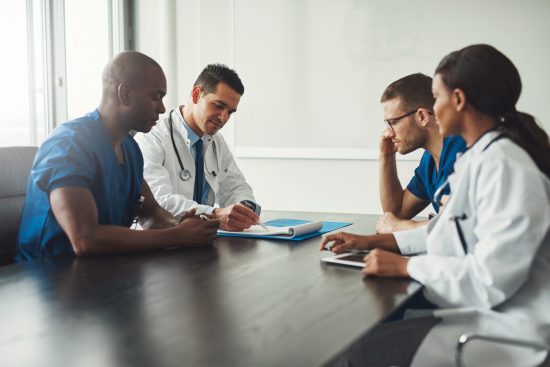 The Center for the Future of the Health Professions will post its third monthly op-ed column for 2023. Our columns represent strong, informed, focused opinions on issues affecting the health professions' future. As mentioned, the center was developed to provide state, local, and national policymakers and health system stakeholders with accurate, reliable, and comprehensive data and research about the healthcare workforce to effectively plan for a sustainable future and make the best use of available resources.
This month we feature a discussion on the future of the acupuncture profession by Catherine Niemiec, JD, LAc. Niemiec obtained her juris doctorate in law from the University of California College of the Law, San Francisco, after receiving her undergraduate training from the University of Arizona (political science major and biology/chemistry minor). After practicing law, she became the director of a national bar review company. While working as a litigator in the San Francisco Bay area, Niemiec was introduced to acupuncture medicine to address repeated bouts of bronchitis. After a Chinese herbal tea cleared her symptoms within minutes, she was inspired to study medicine and became an herbalist. Returning home to Arizona, she helped draft legislation establishing the Acupuncture Board of Examiners and established the first medical school of acupuncture in Arizona. The Phoenix Institute of Herbal Medicine & Acupuncture (PIHMA) is now in its 28th year, offering four-year master's and doctorate degrees in acupuncture and herbal medicine. With more than 400 graduates working in private practice, integrative clinics, and hospitals, PIHMA spreads this highly effective, safe, and cost-effective medicine through its alums and onsite community clinic. For more information, visit pihma.edu
We look forward to your comments on this month's digest.
Randy Danielsen, PhD, DHL(h), PA-C Emeritus, DFAAPA
Professor & Director
The Center for the Future of the Health Professions
A.T. Still University
The future of the acupuncture profession
What is acupuncture medicine?
Acupuncture medicine, also known as Asian or Oriental medicine (AOM) or traditional Chinese medicine (TCM), is also known by the various Asian nationalities or approaches, e.g., Chinese, Korean, Japanese, 5-Element, and French Energetics. This traditional medicine is a highly effective, affordable, low-risk treatment option for many health issues and chronic conditions. It is one of the most requested complementary and alternative medicine choices in the U.S. today. Used by most of the world's population, it is highly efficacious, providing solutions and relief for various health conditions. The World Health Organization cites more than 43 conditions successfully treated by acupuncture. While some insurance companies cover acupuncture treatments, most are paid out of pocket. In the U.S., nearly 40,000 licensed practitioners and 56 colleges teach this medicine. The future of the acupuncture profession depends upon its continued and greater acceptance into mainstream healthcare. However, it has existed outside of this system and has been used by the general public for several decades.
As stated by the Council of Colleges of Acupuncture & Herbal Medicine, acupuncture medicine (AM) is an ancient and empirical system of medicine based on the concept of Qi, pronounced "chee", meaning energy/life force and its flow through the body along channels or meridians. This invisible energy guides the flow of blood, fluid, and energy to all parts of the body. Any imbalance or deficiency of this energy, fluid, or heat can cause disease and aging. Specifically, acupuncture refers to the stimulation of specific points on the body, called acupoints, by inserting very fine, sterile, stainless steel needles to elicit a predictable physiological response. This stimulus may also be administered to the points using mild electrical stimulation (with or without needles), pressure techniques with the hands (acupressure), or the application of heat or energy using other methods such as laser, fire cupping, electrical, or mechanical. Applying pressure or needling to these points stimulates the nervous system to release certain chemicals in the muscles, spinal cord, and brain. These chemicals either change the body's experience of symptoms, especially pain, or trigger the release of additional hormones that influence the body's internal regulating system.
There have been many attempts to define a common physiological mechanism that explains the location and healing attributes of these points. The ancient theory of "channels," where flows an unseen energy called the "qi," has been called pseudoscience by many. Despite thousands of years of usage and effectiveness, this medicine continues to be challenged in finding its fully accepted place in conventional medicine. Acupuncture channels are utilized in acupuncture education and actual practice as a way to group points in terms of location and function and for ease of learning and utilization. It is a metaphorical way of describing a very scientific system of energy flow. This approach has endured for centuries as a way of understanding, explaining, and healing using a simple and effective way of moving and rebalancing energy. Understanding and mastering this approach has allowed for this medicine to be used and delivered throughout the world beyond the practice of conventional medicine. It has allowed many to use it as a form of health maintenance and prevention, as well as anti-aging and recovery from illness or injury.
The need to put AM into the conventional western medical framework is vital for the future so that this medicine can take its proper place and work with other health professions and professionals in a way that comprehensively addresses the needs of patients and the public. Thus, research helps improve credibility and foster the growth of integrative medicine hospitals and practices. Since the mid-20th century, several studies have demonstrated the mechanism of acupuncture from various perspectives. For example, during an acupuncture session, the practitioner and subjects should attain the "de qi" sensation, an alternative way to describe the needle sensation.1,2 Some studies have shown that the central nervous system plays a crucial role in the outcome of acupuncture.3-5 Like common studies on the function of the brain, neuroimaging technologies, such as positron emission tomography,6 functional magnetic resonance imaging,7,8 as well as electroencephalography,9 and magnetoencephalography10 have also been employed to map the effects. In addition, some studies have attempted to define the location of acupoints according to the interstitial connective tissue with ultrasound.11
In contrast, others link acupuncture to the release of neurotransmitters, neuromodulators, and cellular signaling molecules in the peripheral and central nervous systems.12 Ultimately, there is no single answer to explain why or how acupuncture works. The exact mechanism is multifactorial, involving a number of different paradigms depending on anatomical location and the specific effect acupuncture tries to induce in each case.
The AM field
Nevertheless, despite this, the field of acupuncture and AOM has grown widely and rapidly ever since James Weston, a reporter for The New York Times, wrote about his emergency appendicitis surgery when reporting on President Nixon's trip in China in the 1970s. Reston's surgery in China was performed without anesthesia and only used acupuncture needles for pain and sedation. His subsequent article spawned a rapid growth of interest in Asian medicine. Training and schools started with the first on the East Coast, expanding over the years to more than 50 colleges in the U.S. Acupuncturists are now licensed or regulated in all 50 states.
Training and knowledge
Acupuncturists receive more than 3,000 hours of training with at least 1,400 hours specifically in acupuncture theory, practicum, and 800 hours of supervised clinical training in this Asian medical theory and pathology. Theory and practicum include knowledge of more than 365 points, training in angle and depth of insertion, and many indications and contraindications. Herbal medicine training is more than 500 hours, with the classification of herbs and formulas according to the energetics, matched to the specific energetics of a patient's patterns of disharmony. It is the original "personalized" medicine. The training also includes more than 700 hours of western biomedicine and pharmacology. The Accreditation Commission for Acupuncture & Herbal (formerly Oriental) Medicine oversees the standards for colleges which offer these four-year master's and entry-level Doctorate degrees in acupuncture or acupuncture and herbal medicine. This is the minimum requirement for state licensing, along with successfully passing an extensive certification exam by the National Commission for Certification in Acupuncture & Oriental Medicine. In addition, there is post-graduate doctorate training (DAOM).
The practice of acupuncture by other health professions may impact the future of AM. While there are other health professions (MD, DO, DC, ND, PT) that incorporate a weekend to 200 hours of acupuncture needling training, which can be very effective, the practice of this medicine requires a deeper, more comprehensive, and extensive training to accomplish all that this medicine has to offer. (For a comparison of training and skills, see Know Your Acupuncturist.) Notably, acupuncturists must take nearly 1,000 hours of supervised clinical training, practice, and needling technique before independently practicing on patients, as several hundred hours are required to conduct this invasive surgical needle technique safely, effectively, and comfortably. Nonetheless, these other health professions have Medicare and insurance coverage, which is not yet fully available to acupuncturists. This has impacted access to comprehensively trained acupuncturists who can offer even more to the public.
Another factor in the future of acupuncture is the growing realization that AM provides a viable solution for those areas where conventional medicine is challenged. A 2012 study of acupuncture published in Archives of Internal Medicine showed that acupuncture outperformed sham treatments and standard care for osteoarthritis, migraines, and chronic back, neck, and shoulder pain. This study was conducted by researchers at Memorial Sloan-Kettering Cancer Center and 30-40 other people worldwide over six years for a meta-analysis of 29 randomized high-quality studies. One meta-analysis of almost 18,000 patients across 29 randomized controlled trials found that true acupuncture was significantly more effective than the absence of the service or sham acupuncture (placebo) controls.13 More specifically, the Acupuncture Evidence Project has tabulated research studies that have found evidence of acupuncture's positive or potentially positive effects on different conditions, covering 46 different symptoms.14 Recognizing the potential of acupuncture as a pain management modality, the American College of Physicians (ACP) published guidelines in 2017 strongly recommending acupuncture as an effective treatment for chronic and acute lower back pain, often leading to opioid prescriptions among sufferers.15 The ACP also promotes payment reforms by public and private insurers to cover these services.
Thus, acupuncture can replace an initial opioid prescription when faced with acute or chronic pain concerns. In fact, beyond simply treating pain, the mechanisms of acupuncture produce and release endogenous opioids in the body, acting as a natural analgesic without prescribing opioid drugs.15 Additionally, acupuncture activates opioid receptors in the brain, thus allowing lower doses of opioid medication to be more effective when used with acupuncture treatments. Acupuncture provides the same analgesic effects as opioid medications, reducing the harmful potential for abuse or addiction. Significantly, studies on acupuncture as an opioid complement can reduce opioid-like medications consumption by more than 60% in post-surgical environments.16, 17
The Joint Commission, which accredits all hospitals, released its standards in 2018, stating that hospitals should prioritize modalities such as acupuncture before prescribing opioids. Further, the Veteran's Administration and the Department of Defense incorporated acupuncture for pain and other health issues for years and continued to do so. Acupuncture also addresses symptoms post-addiction or abuse, reducing or alleviating opioid withdrawal symptoms.18 The National Acupuncture Detoxification Association cites more than 1,000 programs across the U.S. and Canada that use acupuncture to overcome addiction. As the number of opioid addicts in the U.S. continues to rise, acupuncture can and should be more widely used to achieve drug independence.19
The World Health Organization has recently published ICD-11 classifications and terminologies for traditional medicine codes globally based on the work of the International Classification of Traditional Medicine project experts from China, Japan, Korea, Australia, U.S., U.K., Netherlands, and other countries. These ICD-11 codes will facilitate research and reimbursement.
Conclusion
The future growth of AM is strong and steady. This medicine has grown to regulation in every state due to word of mouth from satisfied patients paying out of pocket, up to now, when medical referral, insurance reimbursement, and hiring of acupuncturists regularly occur. Research continues to prove and support its efficacy, safety, and benefits for the public. Combining all the aspects and greater scope of acupuncture treatments by comprehensively trained acupuncturists with the strengths of conventional western medicine will save healthcare costs in the long run and create a healthier, happier public. The growth of AM is both necessary and beneficial. Desired by the public and saving costs for insurers, hospitals, and employers, it is worth promoting its growth and supporting its preservation.
References
1. Jung WM, Shim W, Lee T, et al. More than DeQi: Spatial Patterns of Acupuncture-Induced Bodily Sensations. Front Neurosci. 2016;10:462.
2. Zhou W, Benharash P. Significance of "Deqi" response in acupuncture treatment: myth or reality. J Acupunct Meridian Stud. 2014;7:186–9.
3. Hui KK, Liu J, Makris N, et al. Acupuncture modulates the limbic system and subcortical gray structures of the human brain: evidence from fMRI studies in normal subjects. Hum Brain Mapp. 2000;9:13–25.
4. Lundeberg T, Lund I, Näslund J. Acupuncture–self-appraisal and the reward system. Acupunct Med. 2007;25:87–99.
5. Fang J, Jin Z, Wang Y, et al. The salient characteristics of the central effects of acupuncture needling: limbic-paralimbic-neocortical network modulation. Hum Brain Mapp. 2009;30:1196–206.
6. Huang Y, Tang C, Wang S, et al. Acupuncture regulates the glucose metabolism in cerebral functional regions in chronic stage ischemic stroke patients–a PET-CT cerebral functional imaging study. BMC Neurosci. 2012;13:75.
7. Wang Y, Qin Y, Li H, et al. The Modulation of Reward and Habit Systems by Acupuncture in Adolescents with Internet Addiction. Neural Plast. 2020. https://doi.org/10.1155/2020/7409417.
8. Cai RL, Shen GM, Wang H, Guan YY. Brain functional connectivity network studies of acupuncture: a systematic review on resting-state fMRI. J Integr Med. 2018;16:26–33.
9. Yang X, Yu H, Zhang T, et al. The effects of Jin's three-needle acupuncture therapy on EEG alpha rhythm of stroke patients. Top Stroke Rehabil. 2019;1-5.
10. Dhond RP, Witzel T, Hämäläinen M, Kettner N, Napadow V. Spatiotemporal mapping the neural correlates of acupuncture with MEG. J Altern Complement Med. 2008;14:679–88.
11. Langevin HM, Yandow JA. Relationship of acupuncture points and meridians to connective tissue planes. Anat Rec. 2002;269(6):257-265. doi:10.1002/ar.10185
12. Li Y, Wu F, Cheng K, Shen XY, Lao LX. Zhen Ci Yan Jiu. 2018;43(8):467-475. doi:10.13702/j.1000-0607.180196
13. Vickers AJ, Cronin AM, Maschino AC, Lewith G, MacPherson H, Foster NE, et al. Acupuncture for Chronic Pain: Individual Patient Data Meta-Analysis. Archives of Internal Medicine. 2012; 172(9): 1444-53.
14. McDonald J, Janz S. The Acupuncture Evidence Project: A Comprehensive Literature Review. Australian Acupuncture & Chinese Medicine Association Ltd, Dec. 19, 2016.
15. Qaseem A, Wilt TJ, McLean RM, Forciea MA; Clinical Guidelines Committee of the American College of Physicians. Noninvasive Treatments for Acute, Subacute, and
Chronic Low Back Pain: A Clinical Practice Guideline from the American College of Physicians. Annals of Internal Medicine, 2017 April 4; 1667(7): 514-530.
16. Zhang, R, Lao L, Ren K, Berman BM. Mechanisms of Acupuncture-Electroacupuncture on Persistent Pain. Anesthesiology, 2014; 120(2): 482-503., and Lin JG, Lo MW, Wen YR, Hsieh CL, Tsai SK, Sun WZ. The Effect of High and Low Frequency Electroacupuncture in Pain after Lower Abdominal Surgery. Pain
17. Wang B, Tang J, White PF, Naruse R, Sloninsky A, Kariger R, et al. Effect of the Intensity of Transcutaneous Acupoint Electrical Stimulation on the Postoperative Analgesic
Requirement. Anesthesia and Analgesia, 1997; 85(2): 406-13.
18. Wen H, Cheung SYC. Treatment of Drug Addiction by Acupuncture and Electrical Stimulation. Asian Journal of Medicine, 1973; 9:139-141.
19. National Acupuncture Detoxification Association. "About NADA."
See also:
Acupuncture: What You Need To Know
Acupuncture and Herbal Medicine News and Resource Center
Society for Acupuncture Research – Every month, an average of 100 acupuncture-related articles are published in more than 50 journals. PubMed lists more than 1,000 randomized controlled trials assessing efficacy or effectiveness of acupuncture.