Celebrating women in athletic training
Posted: April 15, 2021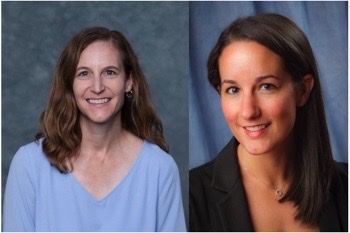 During the month of March, women's history is celebrated, as is the athletic training profession. The Journal of Athletic Training (JAT) marked the occasion by producing the first-ever special edition journal focusing on "Celebrating Women Scholars in Athletic Training." Tamara McLeod, PhD, ATC, FNATA, professor, director of athletic training program at A.T. Still University's Arizona School of Health Sciences (ATSU-ASHS), was a co-editor-in-chief for the issue, and Cailee Welch Bacon, PhD, ATC, associate professor, ATSU-ASHS, was a guest editor.
"It was an honor to work with Sandy Shultz, PhD, ATC, as the co-editors-in-chief for this issue," said Dr. McLeod. "Having the JAT editor-in-chief turn the issue over to his female associate editors allowed the entire issue to be led by females. It was wonderful to work with our guest editors and oversee all of the great work that was submitted for publication for this issue."
"I have never had the opportunity to serve as guest editor before, so knowing that my first opportunity was for such an empowering issue was an honor," said Dr. Welch Bacon. "When Julie Cavallario, PhD, ATC, approached me with the idea of this special issue, I didn't hesitate to get involved."
While women make up a slight majority of the members within the National Athletic Trainers' Association (NATA), there is a disparity of women in higher education and research. This article was an opportunity to showcase the women who are making strides in the research arena.
"Being able to dedicate an entire issue to show the strength of research by women is important for several reasons, including allowing female students to see research as a viable career option, educating the profession and other areas of sports medicine about the importance of scholarship by females, and recognizing the many efforts of women scholars," said Dr. McLeod.
"We began to see a general trend that male scholars were highlighted significantly more than women scholars. Athletic training has done a better job than other fields in promoting women scholars, but there is still work to be done," said Dr. Welch Bacon. "This issue is a stepping-stone in recognizing the hard work that women scholars do to contribute to the body of evidence in our field."
This special edition of JAT was the first of its kind, but hopefully not the last.
"I hope it serves as a catalyst for female athletic trainers and athletic training students to consider research as a career option and pursue graduate degrees to allow them that opportunity," said Dr. McLeod.
"I hope this issue draws attention to potential gender gaps in scholarly recognition and empowers women scholars in athletic training that their hard work is seen and greatly valued," said Dr. Welch Bacon. "Personally, while Dr. McLeod and I have collaborated on numerous research projects and manuscript publications over the past 10 years, it was fun to get to work together on the other side of the publication process."