Celebrating 125 years of ATSU
Posted: August 4, 2017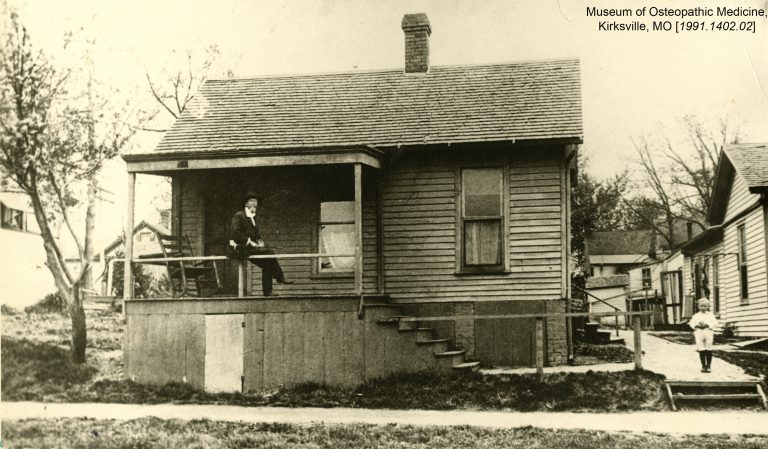 Dr. Still sits on the porch of the first school of osteopathic medicine. Museum of Osteopathic Medicine, Kirksville, Missouri [1991.1402.02]
From President Craig M. Phelps, DO, '84
Thank you to all who have helped and supported ATSU on its remarkable 125-year journey. From humble beginnings as the American School of Osteopathy, the original school has grown into a flourishing university with six schools and colleges. In addition to its heritage campus in Kirksville, Missouri, ATSU features an additional campus in Mesa, Arizona, as well as an online presence.
Many of ATSU's accomplishments have been possible because of its heritage as the founding school of osteopathic medicine and because of its leadership in health professions education. Those accomplishments are reflected in today's innovations and environments of each of its schools and programs. ATSU's mission, vision, values, and core professional attributes are built upon a commitment to provide students a quality education in a family-like environment and to graduate prepared professionals to be successful in healthcare.
Andrew Taylor Still, DO, sought to instill in students an appreciation for the autonomic nervous system's influence on disease prevention and healing. Dr. Still believed the best chance for health and wellness required restoring the body's structure and function, using medications and surgical procedures only when necessary. Today, this seems intuitive; however, in the late 1800s and early 1900s, the idea was met with disbelief and skepticism.
In 2017, ATSU students span the fields of osteopathic medicine, athletic training, audiology, dentistry, occupational therapy, physical therapy, physician assistant studies, health administration, health education, health sciences, kinesiology, public health, and biomedical sciences. Students gain an appreciation for Dr. Still's principles and philosophy, making each graduate a more complete healthcare professional.
Currently, at least 20 percent of all students who attend medical schools enroll in Doctor of Osteopathic Medicine programs. According to the American Association of Colleges of Osteopathic Medicine, 33 colleges of osteopathic medicine are accredited in 48 teaching locations across 31 states. Six schools are state sponsored, and 27 are private, with more than 27,000 students enrolled in total. More than 100 schools are based internationally. Many U.S. colleges of osteopathic medicine, like ATSU-KCOM and ATSU-SOMA, are integral components of comprehensive health science universities.
Healthcare professionals, medical historians, and potential students travel from all over the world to Kirksville and St. Louis, Missouri,  and Mesa, Arizona. The University often hosts visitors from North America, Europe, South America, Africa, the Pacific Islands, and Asia. They come to observe ATSU's innovative learning models and connect with Dr. Still's innovative approach to health and wellness.
With more than 28,000 graduates, ATSU has positively influenced the lives of countless patients, numerous communities, America's healthcare system, and beyond. Today, more than 74,000 DOs are licensed and practicing in the United States. Of course, 125 successful years would not have been possible without the help of alumni, employees, and external community stakeholders.
Throughout 2017, ATSU celebrates all who have supported the University and the professions of its graduates. Whether you are a patient, preceptor, association advocate, faculty member, staff member, alumni, elected official, or business leader, thank you for believing in and supporting our beloved University.
Image above: Dr. Still sits on the porch of the first school of osteopathic medicine. Museum of Osteopathic Medicine, Kirksville, Missouri [1991.1402.02]