Celebrating 125 years
Posted: December 6, 2017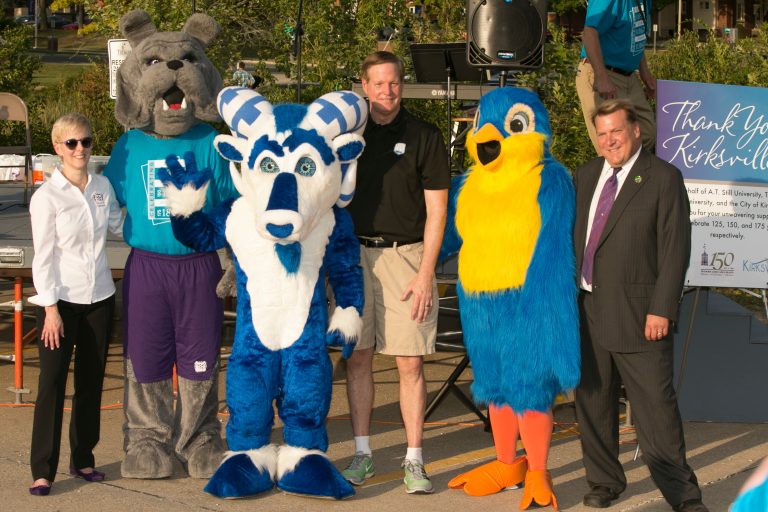 Truman State University President Dr. Susan Thomas, Spike the Bulldog, Bucky, Dr. Phelps, Kirk the Bluebird, and Kirksville Mayor Phillip Biston host a community-wide event on Friday, Sept. 8, to thank Kirksville for its many years of support.
ATSU's 125th anniversary has been filled with celebration and accomplishments, from the Kirksville Community Thank You event to ATSU-MOSDOH's accreditation announcement. The year's celebrations culminated with Founder's Day activities on the Missouri and Arizona campuses in late October. It was exciting to reconnect with alumni and friends and see students, faculty, and staff participating in the festivities.
In this issue of Still Magazine, a sense of community and an emphasis on family emerge from the articles. We reminisce on ATSU's anniversary year and take a closer look at how the University continues to provide care for its communities while educating students. We learn about family members who attended ATSU and how alumni are helping families in need. We also highlight ATSU-MOSDOH's inaugural commencement and share stories of students and alumni making important contributions to society.
As 2017 comes to a close, I would like to thank you again for supporting our wonderful university. I am grateful for the many people who have helped make ATSU successful. Here's to the next 125!
Yours in service,
Craig M. Phelps, DO, '84, president