Camp kids learn life skills
Posted: January 17, 2012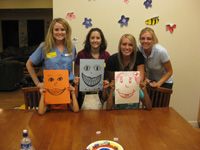 On July 25, ATSU-ASHS' Occupational Therapy (OT) program and ATSU-ASDOH dental students educated children at the East Valley Child Crisis Center. Rachel Diamant, Ph.D., M.S., OTR/L, BCP, OT associate professor, and Brandi Buchanan, OTD, OTR/L, OT assistant professor, organized a week-long life skills camp for the kids.
At camp, OT students taught about a healthy diet, basic ageappropriate mealtime planning and cooking, and social and school-readiness behaviors. Dental students led a session on brushing and keeping teeth healthy.
"This event was a great success due to the partnership with ASDOH and the Occupational Therapy department," said Yvette Thornton, R.D.H., B.S., participation coordinator, dentistry in the community, ATSU-ASDOH.