Bonnie Trahan wins the Employee Excellence Award for the 2016 2nd quarter
Posted: October 4, 2016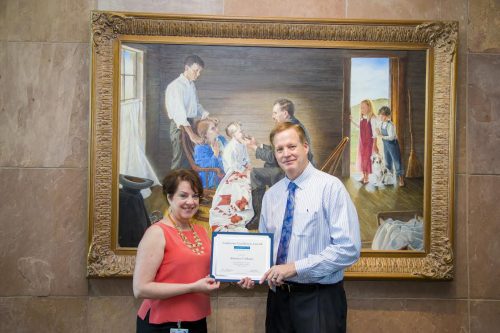 Congratulations to Bonnie Trahan, assistant to the chair of the Department of Physician Assistant Studies in the Arizona School of Health Sciences, for receiving the Arizona Campus Employee Excellence Award for the second quarter of 2016.
The nominations included the following accolades about Bonnie:
In addition to her evident devotion to the PA department, Bonnie has gone above and beyond within the ASHS Staff Assembly by joining and contributing to three separate committees.
Her work ethic never waivers and when a task needs to be handled, she sees it through, when a ball is dropped, Bonnie picks it up.
Bonnie speaks with kindness and professionalism even when vexed to the point of beyond by student or vendor.
She finds a way to adapt and overcome the various challenges in "running" a department as the Chairman's representative and administrative associate.
She has humor and sensitivity in all conversations when appropriate.
Congratulations, Bonnie!