Body, mind, spirit, and voice: Dr. Chester Douglass
Posted: July 11, 2018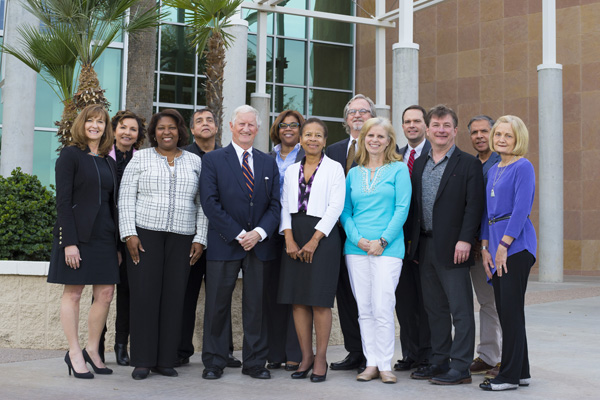 Dr. Douglass, pictured fifth from left, and his fellow board members recite ATSU's mission at every meeting.
As the son of a small-town, private practice dentist, Chester Douglass, DMD, PhD, MPH, was raised in a household dominated by community service. He frequently assisted his father in volunteer efforts at the Pennsylvania State Children's Hospital, where Dr. Douglass could be found passing dental instruments to his father, who provided dental care for children with polio, scoliosis, and traumatic injuries. His father also served as the community's school dentist, identifying and treating any children in need. His father took dentistry very seriously and instilled in Dr. Douglass the passion for satisfying the oral health needs of all members of his community.
"It seems to me that Dr. Still must have practiced the same way," says Dr. Douglass. "I cannot imagine Dr. Still would ever ask a patient, 'How are you going to pay for this treatment?'"
Dr. Douglass had big shoes to fill, and he accepted the challenge wholeheartedly. His career is almost entirely academic public health, with the exception of two years clinical service in the U.S. Navy during the Vietnam era. He is professor emeritus at Harvard University, where he created a department in oral health policy and epidemiology research. The most influential component of his academic dental public health career has been his ability to obtain training grants for graduate students in health services research, geriatric dentistry, preventive dentistry, and health policy.
Dr. Douglass joined ATSU's Board of Trustees in 2011. He was drawn to ATSU not just for its national prominence but also because students are selected with the passion and intent of practicing in underserved areas.
"My favorite thing is reciting the mission statement of the University in unison with the entire Board of Trustees at every meeting," he says. "It commits the entire faculty and student body to whole person healthcare, and that really means it is couched in the goal of improving health of the entire community with special attention and effort to be inclusive of the underserved."
Growing up, Dr. Douglass was unaware of the osteopathic approach to medicine. His secondary passion for singing engrained him with the "body, mind, spirit, and voice" fundamentals, which properly outline the tools necessary for a healthy vocal technique.
"It takes a whole person to sing and rejoice," says Dr. Douglass. "These fundamentals are completely consistent with the osteopathic approach to medicine, regarding the body as an integrated whole."
The Board of Trustees at ATSU is wonderfully comprised of leaders who are especially diverse in skills, background, and expertise. With passionate individuals, such as Dr. Douglass, leading the way, ATSU's greatest contributions to total person healthcare may be yet to come.
Dr. Douglass says, "ATSU will continue to grow and emerge as the undisputed national leader in producing practitioners committed to community-based healthcare and total person, team-based primary care."