Beyond the Campus Walls: Rachael Galvin and David Funk
Posted: May 25, 2017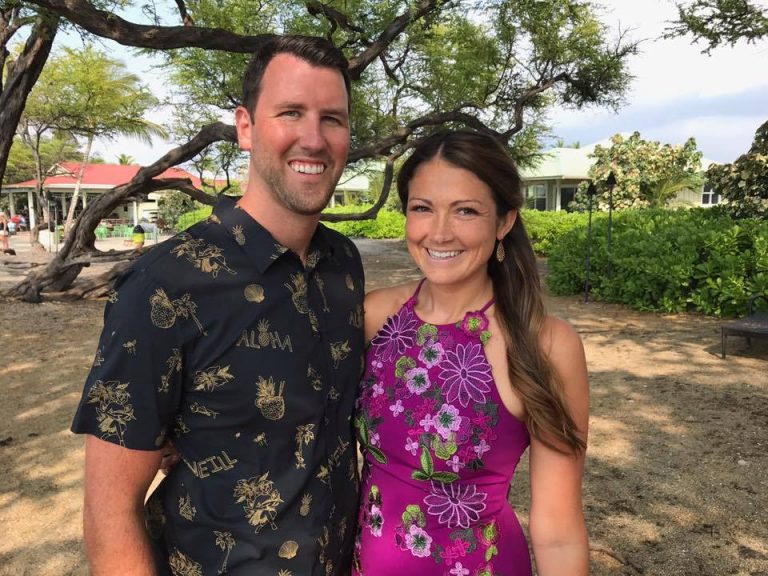 It has been an exciting year for Rachael Galvin, DO, MPH, '17, and David Funk, DPT, '16. Last summer, Dr. Funk graduated from A.T. Still University's Arizona School of Health Sciences (ATSU-ASHS) with his doctorate of physical therapy. In May, Dr. Galvin graduated from ATSU's dual-degree program with a doctorate of osteopathic medicine from ATSU's School of Osteopathic Medicine in Arizona (ATSU-SOMA) and a master's in public health from ATSU's College of Graduate Health Studies.
On Saturday, April 15, the couple tied the knot in beautiful Waikoloa Beach, Hawaii. Hawaii was more than just a destination for their wedding, however. The couple has called the tropical paradise home for the past three years. As students, both were assigned to the islands for clinical rotations. Since his graduation, Dr. Funk has worked there as a traveling physical therapist. 
It was a winding road that led Dr. Galvin and Dr. Funk to careers in healthcare. Dr. Galvin comes from a family of doctors. In fact, her father is a graduate of ATSU's Kirksville College of Osteopathic Medicine. Dr. Galvin rebelled by studying photojournalism in college, but was persuaded to pursue a career in medicine after a taking a life-changing trip to Haiti to help people affected by the devastating 2010 earthquake.
"I think quality healthcare is often taken for granted," she says. "That trip really opened my eyes to the tremendous impact medicine and public health can have on people's lives."
Dr. Funk originally planned to study dentistry, but changed his mind after shadowing his sister, a physical therapist, at her office. After speaking with a patient whose goal was simply to hold her grandchildren again, Dr. Funk realized what a profound impact physical therapists can have.
"We give patients their lives back," he says. "It's incredible."
This summer, the couple plans to trade in their surfboards for skis, as Dr. Galvin begins her residency in Denver. In the meantime, the newlyweds are making the most of their remaining time in paradise, and reflecting on the memories they've made.
"Our wedding marked the end of a chapter for us here in Hawaii," says Dr. Funk. "It was great to bring everyone together and show them what this place means to us and what a role it's played in our relationship."
Their time in Hawaii has been no day at the beach, however. The busy graduate students spent far more hours working on their homework than working on their tans.
"Sometimes it's hard to go to school in such a beautiful place when there are so many wonderful things to do," says Dr. Galvin.
"She's much better at that than I was," adds Dr. Funk. "Luckily I had her to tell me, 'Today we're studying.' I picked up on it slowly." 
True to ATSU's mission, the couple has even made time to serve the community. While teaching health and nutrition at a local elementary school, Dr. Galvin learned that many of her young students were experiencing homelessness and hunger. The children relied on the school to provide breakfast and lunch, but went hungry over school breaks.
Dr. Galvin was determined to find a solution. With Dr. Funk's help, she organized a food drive to provide 50 children in need with nutritious meals over spring break. Thanks to an enthusiastic response from the community, the program was a huge success. Each child received a backpack with meals and snacks to last seven days.
Dr. Galvin attributes her ability to mobilize the community around a cause to her education at ATSU-SOMA. "ATSU-SOMA's approach allowed me to really become a part of the community," she says. "The model is flexible and unique in that I gained so much hands-on experience and a better understanding of local needs."
As Dr. Galvin and Dr. Funk embark on the next chapter of their lives, they are grateful for their experience at the University.
"We always say how much ATSU means to us," says Dr. Funk. "I could not have been happier with the education I received."
Best of luck to the newlyweds on their next adventure!