Beyond the Campus Walls: Julian Hirschbaum
Posted: March 16, 2017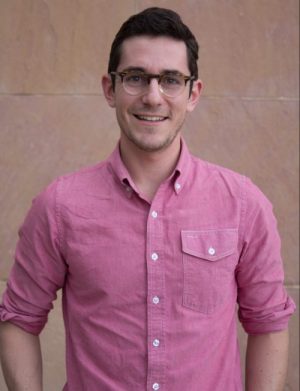 Julian Hirschbaum, OMS IV, was recently named one of 14 international winners of the Foundation for Advancement of International Medical Education and Research (FAIMER) Student Projects for Health competition, recognizing students who have made outstanding contributions to community health projects. Hirschbaum attends A.T. Still University's School of Osteopathic Medicine in Arizona (ATSU-SOMA).
At just 28 years old, Hirschbaum's contributions are certainly outstanding. This summer he will travel to rural Peru for the fourth time, where he provides medical education to indigenous communities along the Amazon River. He works with MGY, a student-driven nonprofit organization dedicated to improving health systems in underserved areas.
"This program has been one of my passions in medical school," says Hirschbaum. "It drives me to become a doctor to support communities that would not otherwise have access to sustainable healthcare."
In the Loreto region of northeast Peru, most communities are accessible only by boat. Depending on the level of the river, it can take villagers two to four hours to reach the nearest medical outpost. Previous efforts by the government and other organizations to deliver basic health services involved deploying healthcare workers to the region on a temporary basis. These solutions were costly, and ultimately could not be sustained.
MGY took a different approach. Hirschbaum and his colleagues recognized that long-term healthcare solutions must be developed locally. They created an innovative, community-oriented training program for tribal members who would act as health workers.
In November of 2014, MGY held its first training session in Peru. A total of five community health workers participated, representing four communities in the region. They learned to administer basic first aid and check vital signs such as blood pressure, heart rate, and temperature. The curriculum also addressed common regional health concerns, including diarrheal illness, malaria, and dengue fever. 
To supplement the in-person training, participants were given tablet computers with preloaded lessons recorded in their native language. The tablets were theirs to keep; they could review the material at any time.
Since then, Hirschbaum and his team have returned to the same region every summer to track effectiveness and train additional community health workers. In total, they have trained 11 health workers who care for nearly 2,000 Peruvians throughout 10 communities.
This past June, MGY expanded to Uganda. The structure of the Uganda program is similar to what is offered in Peru, but the curriculum emphasizes HIV prevention and emergency medicine. Because MGY's program is both flexible and sustainable, it can be tailored to meet the needs of underserved communities around the world.
MGY has also grown to incorporate a global health honor society, Capacidad. The purpose of the collaboration is to encourage medical, dental, and public health students to become involved in sustainable global health programs. ATSU students with wanderlust and a desire to improve access to healthcare in underserved communities can apply to join Capacidad. The organization is currently accepting applications for the incoming class.
As a winner of the FAIMER Student Projects for Health competition, Hirschbaum has been invited to attend the 2017 annual conference of The Network: Towards Unity for Health April 8-12 in Tunisia. At the conference, Hirschbaum and other student winners will mingle with influential healthcare leaders.
Hirschbaum hopes the award will call attention to MGY's work and inspire others to develop sustainable global health solutions. He is thrilled to be in the company of future leaders of the field. "It is such an incredible opportunity to be able to present and learn from other students who are doing equally incredible work," he says.
In the fall, Hirschbaum will begin his residency in Los Angeles. He's not sure what the future holds, but he hopes to continue his work in education and global health. Wherever he goes, he plans to carry out ATSU's mission by serving the underserved, and hopes aspiring medical students will embrace this mindset.
"I'm very grateful for the support I've received at ATSU," he says. "I encourage people to step outside their comfort zones and take opportunities to see things from a new perspective. Whether it's locally or globally, seek out opportunities to serve."