Baseball bats and Pilates mats
Posted: July 11, 2018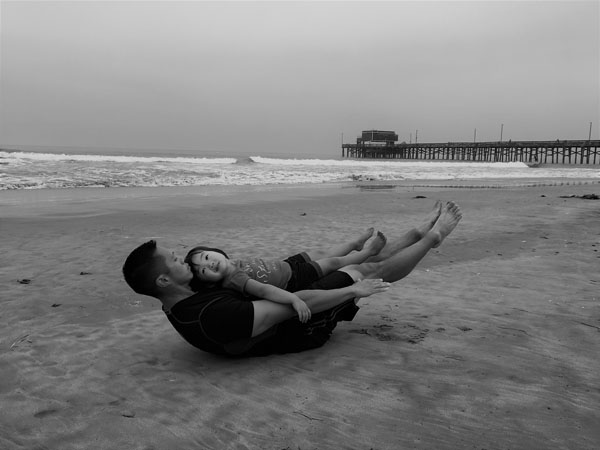 Yong's daughter adds resistance to his Pilates workouts. Photo credit: Tammie Yong
The Chicago Cubs, Arizona Diamondbacks, Chinese national baseball team, Texas Rangers, and March Matness Pilates movement. It's an impressive resume for Ed Yong, MS, '08, who began his fitness career as a personal trainer while pursuing his undergraduate degree.
"My first fitness-related job was as a personal trainer during my senior year of college," Yong says. "Although I enjoyed all of my clients, I felt the need to pursue something more."
He sent resumes to a few baseball teams during Spring Training, and only one replied: the Chicago Cubs. After a 36-day unpaid internship with the Cubs, Yong was hooked on the world of baseball.
In 2004, Yong was hired by the Arizona Diamondbacks and worked with all levels of their minor league system for the next four seasons as a strength coach. Following his time with the Diamondbacks, Yong worked with the Chinese national baseball team in preparation for the 2008 Summer Olympics in Beijing as the strength and conditioning coach.
In between working for Major League Baseball teams and coaching Olympians, Yong felt the need to advance his education in the strength and conditioning field. He enrolled in the Human Movement program at ATSU.
"I was able to perform the work at my convenience, which was during my baseball season in Tucson, Arizona, in 2007 and Beijing in 2008," Yong says. "It was great because I could be on the road in a hotel room or in my office in the stadium and still get all of the required classwork done."
Since 2009, Yong has been a strength and conditioning coach with the Texas Rangers organization, currently with their minor league affiliate, the Spokane Indians.
Yong's athleticism isn't limited to the field, however. During the 2011 offseason, Yong started doing Pilates as a way to find other means of improving his body "out of boredom." In 2015, Yong started seeing March Matness photos online. March Matness, created by renowned Pilates instructor Benjamin Degenhardt, features one exercise per day in the month of March, with many participants sharing photos of their pose of the day on social media. Yong's daughter, Kyra, was 3 years old at the time.
"Every time Kyra sees me doing Pilates, she will stop what she's doing and hop in," Yong says.
Yong started using her for added resistance, and his wife, Tammie, took photos. Yong's son, Braydon, also joined in on the fun. The Pilates world took notice of the cute additions to Yong's March Matness photos. Some photos had more than 500 likes on Facebook.
Yong has woven together his loves for Pilates and baseball conditioning. He is responsible for leading yoga and Pilates sessions with his players.
Although Yong works with many talented athletes, his March Matness photos clearly show his kids are the real MVPs. Whether he's on or off the field, Yong is committed to making fitness fun with a little help from his family.