Baby Lab for PT students being held
Posted: January 22, 2013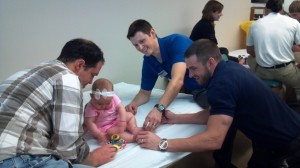 The annual "Baby Lab" for the PT students enrolled in Human Development will be held on Jan. 28. Deanne Fay, PT, MS, DPT, PCS, director of curriculum and an associate professor of physical therapy, is leading the initiative.
"For these labs, we need several babies for the second-year PT students to get a chance to observe real life development," said Dr Fay." If you, or a friend, family member, or neighbor, has a baby between the ages of birth and 14-15 months (can be older if he or she has only been walking for one to two months), we would love it if you would help us out!"
There are three labs being held, and nine to 10 babies are needed for each lab. The labs are scheduled at 11:00 a.m., 1:00 p.m., or 3:00 p.m. Each lab will last 1-1.5 hours.
During the lab, the students will work with partners, so that only two students will be with a baby at one time. "If your baby is young and not yet crawling, we will have your baby up on a blanket on an individual mat table in the room," said Dr. Fay. "It will be completely up to you whether the students will handle your child or not. If you are not comfortable with this, we will simply ask you to put your baby into different positions (lying on his or her tummy or back, etc.) so the students can observe movements in those positions." If the baby is older and is crawling or walking, toys will be placed around the room, and the students will watch the movements each child uses as he or she plays.
If you, or someone you know, would be willing to bring in an infant, email Dr. Fay at dfay@atsu.edu or call 480-219-6064. Please tell us which lab you will be able to attend and the age of the child on the day of the lab.