Audiology student attends mission trip to Mexico
Posted: November 12, 2013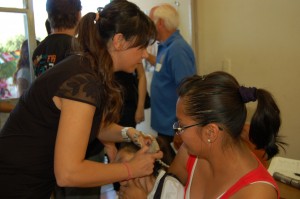 Seisan runs tympanometry on a child; an examination used to test the mobility of the eardrum (tympanic membrane) and status of the middle ear.
In late October, Nasim Seisan, AuD, '15, accompanied the Mesa Baseline Rotary Club (MBRC) on their annual mission trip to Guaymas, Mexico.
ATSU's Audiology Department has been teaming up with MBRC since 2006, treating patients in Guaymas for audiologic symptoms. Since 1992, MBRC has made 25 trips to Guaymas – a 400 mile journey almost directly south of Phoenix.
Thirty volunteers treated more than 220 patients over the course of two days. Seisan was one of 13 doctoral students who attended and considered the experience eye-opening. "This experience helped me to become a better healthcare professional because of the unique opportunity in an under served community, as well as the nature of patients and cases seen. I have learned how many healthcare services are needed in such high demand in a small area and can imagine magnifying that to the needs across world."
"The Audiology Department encourages students to take part in service activities such as the Guaymas mission to enhance their clinical skills," said Tabitha Parent Buck, AuD, professor and chair, ATSU audiology."In addition, the experience broadens their engagement in diverse communities and their understanding of the challenges and rewards of providing these types of volunteer services."
"I feel more confident about my skills and knowledge," said Seisan. "It's been an honor to be part of this mission and provide much-needed services."