Audiology graduates honored
Posted: September 9, 2013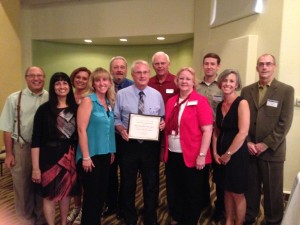 Three AuD graduates were honored by the Department of Audiology at their graduation dinner held in August. Entry-level audiology graduates Amanda Bohn and Sara Jagger and transitional audiology student, Chris Focht were the recipients of the Outstanding Students in Audiology Awards.
Candidates were selected by the AuD program faculty and chair based on their:
Positive attitude and strong work ethic demonstrated throughout the AuD program.
Involvement in professional and community service activities to promote audiology, quality patient care, services for underserved populations and/or other professional issues.
Positive interactions with fellow students, faculty, staff and the community.
Also at the dinner, all graduates received AuD pins and then recited the Audiology Oath.