Audiology alumni reception held at AAA AudiologyNOW! Convention
Posted: April 7, 2014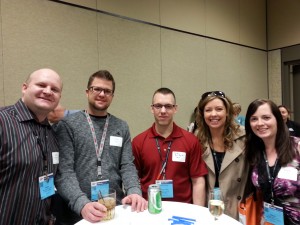 Alumni, students, faculty, and friends connected with one another at the recent American Academy of Audiology Convention in Orlando, Fla., and heard from Audiology Department Chair Dr. Tabitha Parent Buck and Dr. David Pedersen, '07, ASHS Alumni Board Member. Below is a recap of their updates:
The current transitional Doctor of Audiology program is being phased out as the profession continues to evolve, with an application deadline of January 31, 2015. If any of your friends or colleagues is still interested in earning their AuD degree, please ask them to learn more and apply at: http://www.atsu.edu/doctor-of-audiology-degree-online#application.
Alumni and students continue to serve as our best ambassadors.

Many thanks to everyone for the referrals over the years. We currently have 12-13 students in each residential class, and we still enroll 12-15 online students each quarter.
Dr. Juliëtte Sterkens, '06, received the ASHS Alumni Chapter Humanitarian of the Year Award for her outstanding work with hearing loops at the state, national, and international levels. Having spoken throughout the country and Europe, Dr. Sterkens is a strong advocate for this important device, and we were excited to present her with this well-deserved award!
As the audiology department continues to grow and lead audiology education, alumni support greatly benefits current and future generations of students. One of the many opportunities to contribute is the Audiology Alumni Scholarship Challenge, and more information on gifting can be found here.
For additional photos, please visit our alumni Facebook page.