AuD reception held at AAA Convention
Posted: April 3, 2015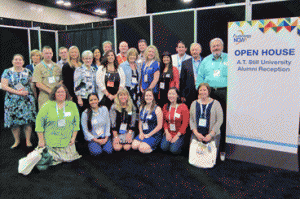 Alumni and students joined Dr. Tabitha Parent Buck, chair, Department of Audiology, and Dr. Brenda Lowe, '09, Arizona School of Health Sciences (ASHS) Alumni Board, during the American Academy of Audiology's (AAA) AudiologyNOW! 2015 convention on March 25.  Below are some of the updates shared with attendees:
• Started in 2000, the Transitional Doctor of Audiology program continues to be strong, and the deadline for applications has been      extended to June 30, 2016. As graduates and students who understand the value of the degree and have advocated for the program throughout the years, please continue spreading the word to those considering earning their doctorate degree online.
• The network of alumni and students is very important to furthering the growth of the audiology programs, including through service as preceptors, adjunct faculty, and other forms of giving back. The ASHS Alumni Board is working on ways to make it easier for alumni to connect with one another virtually, and your input is welcomed.
• The ASHS Alumni Board will have an open position for an audiology representative in the next couple of years. If you have interest in serving as a voice for your fellow graduates to the University, please contact Alumni Relations for more information.
More photos from the event can be found on our Facebook page.