ATSU's proposed new dental school endorsed by Missouri Governor
Posted: December 15, 2010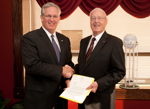 Missouri Governor Jay Nixon presents a letter of endorsement to ATSU President Jack Magruder.
KIRKSVILLE, Mo. – Missouri Governor Jay Nixon supports a Kirksville location for the new dental school proposed by A.T. Still University of Health Sciences, which has been asked by three groups based in Southern California, Central Florida, and Missouri to consider bringing its very successful and highly innovative dentistry program to those regions. ATSU is actively exploring these options, including the possibility of opening a dental school in Kirksville, Mo.
In a letter presented to ATSU President Jack Magruder, Gov. Nixon cites six reasons for endorsing the school's Kirksville location:
ATSU's long and honorable Missouri tradition,
Its training of quality physicians who promote healthcare and well-being of Missouri's citizens,
The health benefit of Missouri's citizens and its economy,
Increased academic excellence for Missouri's community health centers and graduates who practice in the state,
The capital investment and additional faculty will create long- and short-term jobs, and
To continue Dr. A.T. Still's pioneering legacy.
"As Governor of the state of Missouri, I am proud to have A.T. Still University of Health Sciences in my state," said Gov. Nixon. "I heartily endose Kirksville to be the location of a second dental school."
Added Dr. Magruder, "We are grateful for the endorsement of the Governor for locating our dental school in Kirksville, and we greatly appreciate his continuing support of education in the state of Missouri."
ATSU is currently completing a formal feasibility study on the dental school proposal to be completed before its next board meeting in February 2011.