ATSU's physical therapy program hosts third annual Move for Mason event
Posted: June 14, 2018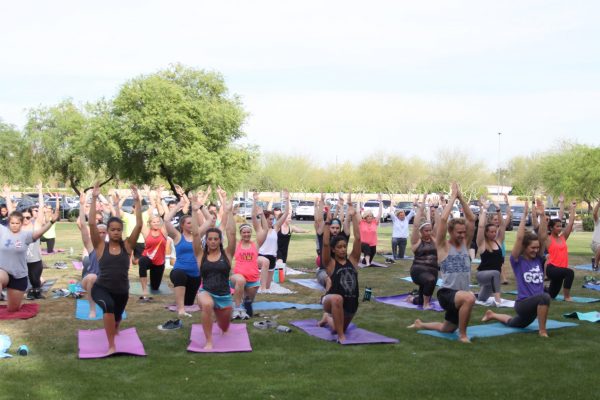 On Thursday, April 5, A.T. Still University's (ATSU) physical therapy program hosted Move for Mason. The annual event honors Mason Vig, a Doctorate of Physical Therapy (DPT) student who passed away in 2012. To celebrate Mason's passion for fitness and wellness, more than 70 attendees participated in yoga on the lawn and attended an interdisciplinary health fair.
The event was the culmination of a months-long effort to raise money for the Mason Vig Scholarship, awarded annually to an exceptional student in the DPT program. In total, student-led events, including a raffle and a fundraiser at Orangetheory Fitness-Gilbert, generated $3,340 to support the scholarship fund.
Mason was a talented athlete who was committed to serving his patients and helping others. To honor these qualities, students from ATSU's Physician Assistant Studies program engaged in random acts of kindness leading up to this year's event. They compiled stories and photographs of their kind acts into a book and presented it to Mason's parents, Joe and Patti Vig, at Move for Mason.
"For me personally, living this way and paying it forward is just something I believe in and try to embody myself, so being a part of this event to honor Mason's memory was truly an honor," says Christina Conger, DPT, '19, student co-chair of Move for Mason. "I really wanted us all to come together as a department and as a school to move our bodies and celebrate our profession from its roots in whole person health and wellness. How are we expected to provide quality care for our patients unless we also take care of ourselves in body, mind, and spirit?"