ATSU's Dr. Alan Freeman receives 2023 John Gilbert Award during NACHC conference
Posted: August 29, 2023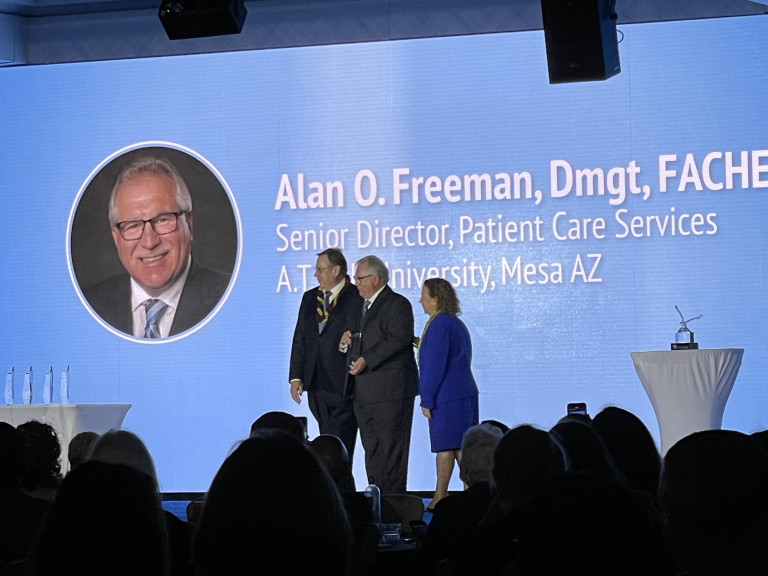 ATSU's Alan Freeman, Dmgt, FACHE, receives the 2023 John Gilbert Award.
A.T. Still University (ATSU) Senior Director of Patient Care Centers Alan Freeman, Dmgt, FACHE, received the 2023 John Gilbert Award, presented during the 2023 National Association of Community Health Centers (NACHC) Community Health Awards of Excellence at the 54th Annual Convention & Community Health Institute in San Diego.
The award was established to recognize John Gilbert's outstanding contribution to NACHC and the community healthcare field prior to his death in 1974. The award is presented to an individual who, as a member of either the board or staff of a health center, has demonstrated a level of excellence in the community healthcare field.
"It is truly an honor to receive the National Association's John Gilbert Award, named in memory of a highly impactful and beloved figure who served during the inception of our movement's history. I am quite humbled, knowing well there are many deserving leaders," Dr. Freeman said.
"Health centers are very special caregiving entities, perhaps evidenced best through our unwavering expectation for equity and justice – both through our delivery of care and services, and as we uphold these immutable standards within society. Our organizations are filled with impassioned individuals who continually inform, model, and lead us along this straight and narrow path.
"The privilege of leading health services organizations that care for the vulnerable has brought immeasurable joy and meaning to my life. Underserved, often disenfranchised patients are our most pressing priority, a tenet I have endeavored never to forget. It is a blessing beyond words that boards of directors, clinicians, colleagues, team members, and other stakeholders have trusted my knowledge, capabilities, and motivations over these many years."