ATSU's College of Graduate Health Studies presents awards to class of 2022, faculty, staff
Posted: June 29, 2022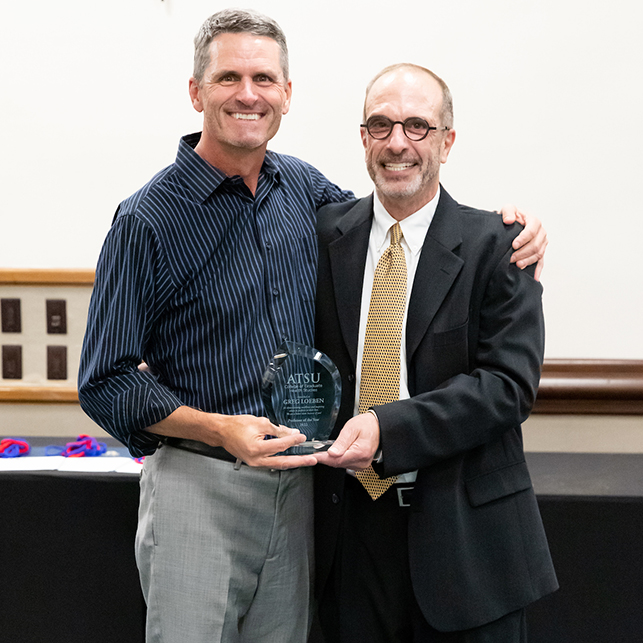 Greg Loeben, PhD, MA, associate professor in the Master of Public Health program, left, poses with Don Altman, DDS, DHSc, Ed.D, MPH, MBA, MA, associate vice president – academic affairs, and former ATSU-CGHS dean. Dr. Loeben was named ATSU-CGHS Professor of the Year.
A.T. Still University's College of Graduate Health Studies (ATSU-CGHS) recently hosted an awards banquet recognizing faculty, staff, and the class of 2022.
The ATSU-CGHS Master of Health Administration (MHA) Capstone Project Poster award went to Hannah Munn. The award competition is open to all eligible graduating MHA students, who convert their MHA Capstone Project into a poster presentation. A selection committee, using a grading rubric, scores each presenter on several metrics. 
Munn's project was titled, "Evaluating the Impact of Healthcare Providers' Communication Competencies on Health Outcomes of Individuals with Disabilities."
The ATSU-CGHS Doctor of Health Administration (DHA) Dissertation of the Year went to Emily Bonazelli. The award is presented to one DHA student who has written an original, innovative dissertation reflecting exceptional research that is likely to have a significant impact on the healthcare field. This award is open to all DHA students who have achieved candidacy and are expected to complete and defend their dissertation between Spring Block 2 of the previous academic year and Spring Block 1 of the current year.
Bonazelli explored the relationship between the 28 National Center for Healthcare Leadership (NCHL) competencies and organizational performance of U.S. hospitals in the value-based performance environment. The study included data collected from all geographic regions (35 states), with a final sample size of 205 participants (quantitative analyses) and 190 participants (qualitative analyses). Based on the breadth and depth of this study, the decision to bestow this prestigious award was unanimous by the Selection Committee.
ATSU-CGHS Professor of the Year went to Greg Loeben, PhD, MA, associate professor in the Master of Public Health program. The award is presented to one ATSU-CGHS faculty member who is judged to be the most outstanding professor. Characteristics such as excellence in leadership and guidance given to students, the degree and quality of inspiration achieved, and intellectual integrity are used in selecting the recipient. 
Students nominating Dr. Loeben said he is dedicated and always willing to help and guide. He has a passion for teaching. He wants to see his students succeed and ensures students receive the assistance they need to complete all the revolving parts of the practicum.
The Michael Samuels Impact Award went to Jaana Gold, DDS, PhD, MPH, CPH, professor, Master of Public Health-Dental Emphasis program. 
Dr. Samuels was an ATSU-CGHS professor and Public Health department chair from 2009 until his passing in 2014. Dr. Samuels led a distinguished career in public health service. He was a dedicated public health advocate who contributed to the greater good of the community and was a reflection of the mission, vision, and values of ATSU.
The Michael Samuels Impact Award honors an individual who has shown particular dedication to the interests of ATSU-CGHS and to the field of public health and community outreach by making significant and continuing contributions toward the betterment of the community. Dr. Gold has shown exemplary leadership not only at the University and College level, but also at the department and community level, going door-to-door to educate individuals in underserved communities about COVID-19 vaccinations and empower them to get the vaccine, as well as assisting with registration, and being an active public health advocate with the local school board in Alachua County Public Schools, Florida.
The ATSU-CGHS Outstanding Employee Award went to Vera Mitchell, MBA, academic advisor. Any employee in the ATSU-CGHS community is eligible to win this award. The winner is selected based upon nominations recognizing achievements in the area of customer focus, going beyond, hospitality, or service.
Mitchell was nominated under the category of customer focus for her high quality and proficient service to the student population. A student remarked that during hard times, Mitchell listened patiently and sympathetically. She is a source of support and knowledge, guiding students through difficult decisions, and it is clear that she takes pride in what she does.
Additionally, the following 2022 Outstanding Adjunct Faculty awards were announced prior to the event: Health Administration, Laurie Latvis, DHA; Public Health, Jill Moore, MHA; Doctor of Health Sciences, Melanie Tidman, DHSc, MA, OTR/L; Doctor of Education in Health Professions, Larry Hearld, PhD, MHA; Master of Science in Kinesiology, Brittani Freund, DPT, PT, ATC, LAT; and Doctor of Nursing Practice, Christina Garcia, PhD, RN.