ATSU well represented at 2018 American Osteopathic Foundation Annual Honors Gala
Posted: November 9, 2018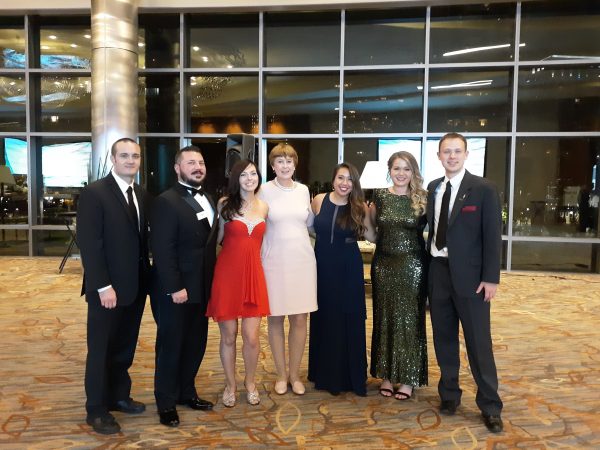 ATSU Senior Vice President – Academic Affairs Norman Gevitz, PhD, KCOM Dean Margaret Wilson, DO, '82, and SOMA Dean Jeffrey Morgan, DO, and students representing both KCOM and SOMA attended the American Osteopathic Foundation's (AOF) 2018 Annual Honors Gala held Oct. 5, 2018, in San Diego, California.
ATSU students and an alumna recognized for 2018 AOF honors were Starr Matsushita, OMS IV, SOMA, AOF Golden Ticket Award finalist; Sarah Freeland, OMS III, KCOM, and Esther Quintero, DO, '18, SOMA, Rossnick Humanitarian Grant recipients; and Nafee Talukder, OMS IV, SOMA, Welch Scholars Grant recipient.
ATSU-KCOM alumni serving as 2018 AOF Officers of the Board & Executive Committee include President Dixie Tooke-Rawlins, DO, FACOFP, '80; President elect Martin Levine, DO, '80, MPH, '03, CGHS, FACOFP dist.; and Directors Richard Feely, DO, CIME, FAADEP, FAAO, FCA, FAAMA, '78, and Stanley Grogg, DO, FACOP, FAAP, '71.
Photographed left to right are Gary Overson, OMS I, KCOM; Michael Cannova, OMS II, KCOM; Shara Myers, D2, MOSDOH; KCOM Dean Margaret Wilson, DO; Renee Chen, OMS II, KCOM; Danielle Daume, OMS I, KCOM; and Peter Weitzel, OMS II, KCOM.