ATSU welcomes Dr. E. Lee Rice for Founder's Day Osteopathy Lecture
Posted: October 24, 2014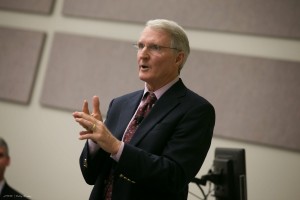 A.T. Still University's (ATSU) welcomed E. Lee Rice, DO, '73, FAAFP, FAOASM, during Founder's Day week. Dr. Rice was the speaker for the Missouri campus' Founder's Day Osteopathy Lecture. He is the CEO and Medical Director for Lifewellness Institute in Sand Diego, Ca.
Students, alumni, faculty, staff, and other guests gathered in McCreight classroom on the Kirksville campus to listen to him speak. His presentation, "Osteopathic Medicine: Wellness on Steroids", focused primarily on the importance maintaining a state of wellness for the body, mind, and spirit.
"The key is being "weller" than well," said Dr. Rice.
ATSU's heritage is based on the practice of humanistic healthcare through an integrated approach that includes the body, mind, and spirit of each patient.
"It's not enough just to be free of disease. What we want to do is have joy, happiness, balance, and fulfillment in our lives. That's what we do for our patients, and for each other," said Dr. Rice.
To view Dr. Rice's lecture, click here.