ATSU unveils newest addition: AFA Balance & Hearing Institute
Posted: March 12, 2013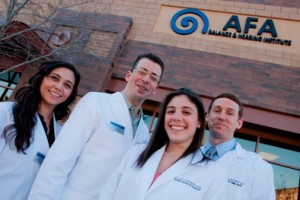 MESA, Ariz. – On March 1, A.T. Still University (ATSU) and community partners celebrated the grand opening of the AFA Balance & Hearing Institute, an ATSU center of excellence generously funded by the Audiology Foundation of America.
The ATSU-affiliated AFA Institute offers a full-range of audiology services through traditional and innovative patient care, while also integrating the whole-person approach into treatment.
Patients can expect to receive diagnostic and rehabilitative healthcare, access to a full line of hearing aids and assistive listening devices, as well as other specialized hearing and balance services.
Most major insurance carriers are accepted, and patients of all ages seeking hearing or balance care may qualify.
The AFA Institute is designed to be a center for teaching and learning, which means students at ATSU's Arizona School of Health Sciences (ATSU-ASHS) seeking their Doctor of Audiology Degree are able to directly assist licensed audiologists in patient care.
"I'm most excited about being able to give our students an outstanding educational experience while also reinforcing the importance of community service," said Troy Hale, AuD, institute director. "The AFA Institute offers ATSU-ASHS' students hands-on clinical training, business practice experience, collaborative interdisciplinary learning, research opportunities and community interaction."
ATSU's AFA Institute is a nonprofit facility, which means that any revenues generated will go toward worthy endeavors like student scholarships and community service projects.
The AFA Institute mission aligns with ATSU in providing exceptional whole-person patient care and leadership in a comprehensive healthcare education setting. For more information on the AFA Balance & Hearing Institute, visit www.theafainstitute.com.