ATSU students 'surrounded' by interprofessional education at HealthPoint CHC in Seattle
Posted: September 18, 2018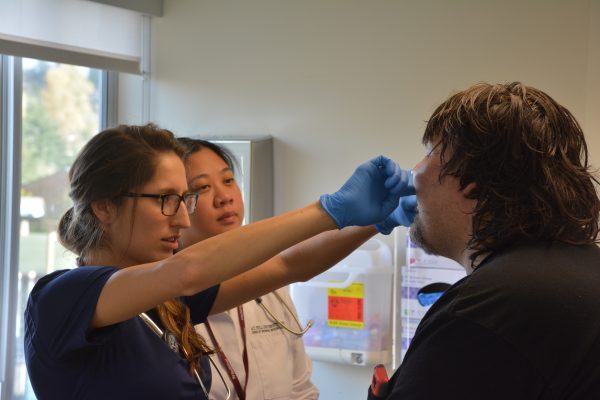 HealthPoint, a community health center in Seattle, is a clinical education destination for students at A.T. Still University's School of Osteopathic Medicine in Arizona (ATSU-SOMA) and ATSU's Arizona School of Dentistry & Oral Health (ATSU-ASDOH). HealthPoint has partnered with the University for a decade. The organization is committed to ATSU's mission to serve the underserved, and provides students with an exceptional educational experience.
"The students are very inspirational," says Ruth Michaelis, MD, a clinical assistant professor at ATSU-SOMA who coordinates the program. "They bring a lot of gifts. Our organization is very supportive of them, and really tries to maximize their experience here."
HealthPoint offers a unique interprofessional clinical educational model. ATSU-SOMA students in the medical clinic are paired with a dental student from ATSU-ASDOH. Dental students teach the medical students how to do an oral screening and apply a fluoride varnish. In turn, medical students teach the dental students how to do a patient history and physical exam.
"There's so much interprofessional support at HealthPoint," says Dr. Michaelis. "When you embed students in this very interprofessional environment, you don't have to work very hard to create interprofessional education. They're surrounded by it."
The experience is a win-win. Students benefit from interprofessional learning opportunities, while patients appreciate the thorough examination.
"The students really enjoy learning from each other," Dr. Michaelis says. "They are happy to learn about the link between medical and dental health. When most medical students take exams, they just skip the mouth. Our students put on gloves and start doing the oral screening."
Patient feedback has been overwhelmingly positive.
"It has been really fun to read the patient comments," says Dr. Michaelis. "Many of them haven't been able to afford a trip to the dentist in a long time. Now they know what they need to do and where to go to maintain their oral health."
Dr. Michaelis and her team recently implemented a small change to the program that will have significant benefits for patients. Although they have been referring many medical patients to the dental clinic, most weren't following up to make an appointment. This year, after providing a collaborative medical exam, dental and medical students will escort patients to HealthPoint's dental clinic to schedule an appointment on the spot.
In the future, Dr. Michaelis hopes the spirit of interprofessional collaboration will inspire an integrated approach to care at HealthPoint, involving healthcare providers, as well as students.
"Our grant ended a year or two ago, but no one wanted to stop doing the work," she says. "The program has exceeded our wildest expectations."