ATSU students honor those who donated their body to University
Posted: November 18, 2021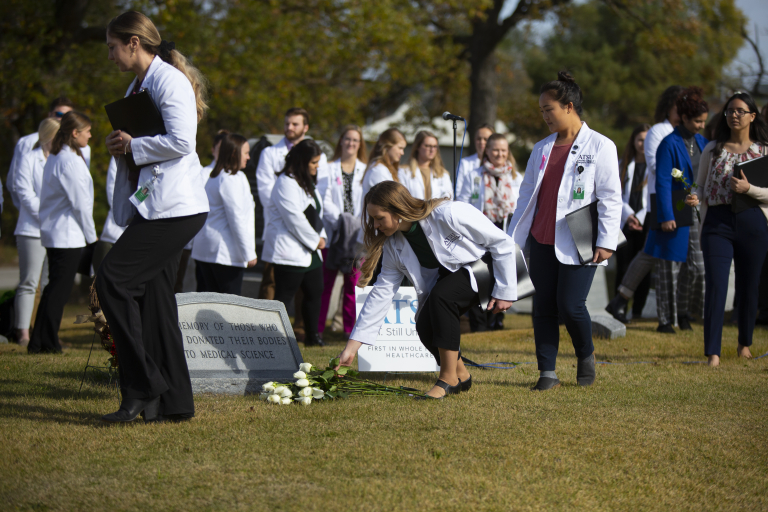 An A.T. Still University student lays a white rose at a headstone honoring those who donated their body to the University during the Gift of Body ceremony in Kirksville, Missouri.
On a brisk afternoon atop a hill in Kirksville, Missouri's Forest-Llewellyn Cemetery, members of A.T. Still University's (ATSU) MEDleys a cappella group filled the autumn air with the solemn words of "Amazing Grace."
It was an appropriate tone for the Gift of Body ceremony, as ATSU's Kirksville College of Osteopathic Medicine and Missouri School of Dentistry & Oral Health expressed their heartfelt gratitude to those who had donated their bodies to the University.
"We speak for all the students at A.T. Still University when we say thank you from the bottom of our hearts," said Chantel Eckland, D2, ATSU-MOSDOH's SGA president and co-chair of the Professional Pride, Service, and Ceremonies committee. "The gift of learning from the beautiful donations your family members have made will echo through the years as we go off and help those in need across the country and the world."
With family members of those who donated their bodies present, several ATSU students representing different organizations took turns expressing their thoughts.
"I believe your loved ones who donated their bodies extended a gift and blessing far beyond what any individual might accomplish in their lifetime," said Vereena Messieha, first-year biomedical sciences student and president of the Christian Medical and Dental Association. "By relinquishing their bodies for the betterment of our learning, they have deepened our understanding of the intricacies of the human body that will serve as a foundation to bring healing and comfort, and better quality of life to our future patients."
"As medical students, we have chosen to be healers, and these wonderful people chose to help us learn," said Jeffrey Diamond, OMS II, president of Latter-Day Saint Student Association. "They didn't know us, but they gave one of their most prized Earthly possessions to us – their body. Their sacrifice will always be remembered, especially by the class of 2024. These individuals live on in us. They live on in the knowledge we retain in our minds as we examine the beauty of the human body."
"In a way, what we celebrate today is love," said James Bussey, OMS II, president of the Catholic Medical Association. "The decision to donate is an active decision, and a conscious choice, with the intent of furthering our education. With this education, we can in turn facilitate our own acts of love to the world, and go out into the world as healers."
As the ceremony concluded, students, faculty, staff, and family members took turns placing white roses at the foot of a gravestone inscribed, "In memory of those who have donated their bodies to medical science," a gift to the silent teachers whose lessons will reach decades into the future.
"Just for a moment today, let us look around this world and appreciate how our legacy can live on past our time on Earth," said Rachel Maibach, OMS II, ATSU-KCOM SGA president. "People choose to leave their mark on the world in a variety of different ways, and through this difficult time of losing a loved one we hope you find comfort in knowing their vibrant legacy will shine on through our work as healthcare professionals."