ATSU students, faculty, staff express gratitude to donors, families during annual Gift of Body event
Posted: October 12, 2023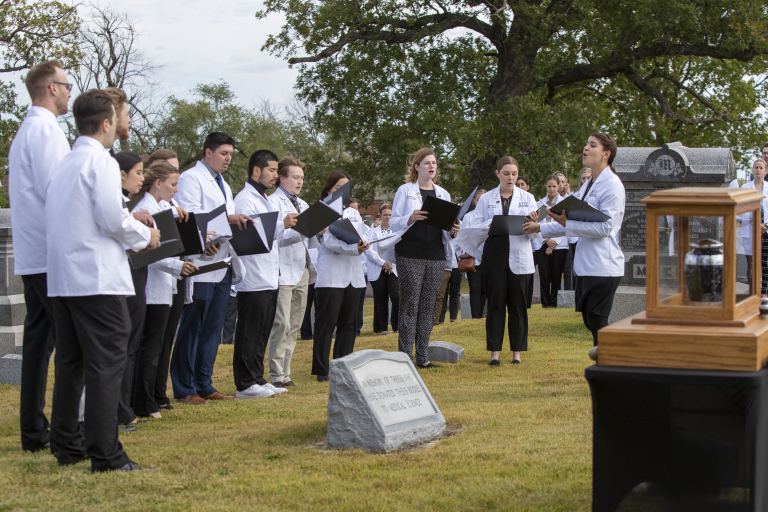 The ATSU MEDleys perform "Amazing Grace" during the Gift of Body Ceremony in Kirksville, Missouri.
With A.T. Still University (ATSU) students, faculty, staff, and alumni gathered alongside honored guests – those whose family members donated their bodies to ATSU-Kirksville College of Osteopathic Medicine's (ATSU-KCOM) Anatomy department – Peter Kondrashov, PhD, Anatomy chair, put Wednesday's Gift of Body Ceremony into perspective.
"Each donor became a great educator for hundreds of students," Dr. Kondrashov said, "and each of these students will become healthcare professionals who will positively affect the lives of hundreds of thousands of people.
"The impact your loved ones have on humankind is tremendous."
The annual Gift of Body Ceremony draws ATSU-KCOM and ATSU-Missouri School of Dentistry & Oral Health students to Kirksville, Missouri's Forest-Llewellyn Cemetery, where they surround a modest tombstone inscribed, "In memory of those who have donated their body to medical science."
The ceremony provides an opportunity for students to express their gratitude to the family members of those whose bodies were donated to the University.
"These remarkable individuals have left an enduring legacy, allowing future physicians to learn and grow," said Joseph Marcuccilli, OMS II, Student Government Association president. "We will forever cherish the gift they bestowed to us, of the privilege to study the intricacies of the human body."
Leaders from several ATSU student faith organizations provided remarks from their experiences, both as students and people of faith.
"Because of their gift, a new generation of physicians and dentists will have a much greater and deeper understanding of the human body. These men and women changed my life, they changed the lives of my classmates, and by extension their gift will change the lives of hundreds of thousands of patients. I will forever be grateful," said Josh Vance, OMS II, of the Latter-day Saint Student Association.
"Every patient who benefits from the knowledge my classmates and I have gained will add to the list of good deeds of the donor and the family who allowed it until the end of time. Therefore, let us celebrate the sacrifice made by the donors and their families," said Haleema Ahmad, OMS II, of the Muslim Student Association.
"Although we never knew them as father, mother, brother, sister, spouse, and friends, these individuals have touched our lives and will continue to impact thousands as we practice medicine," Madeline LaRow, OMS II, of the Christian Medical Dental Association, said.
ATSU-KCOM alumnus Baydon Hilton, DO, '19, explained the profound educational impact the gift of the body provides. Hilton completed a pre-doctoral fellowship in anatomy, and during both his time as a student and now a physician has interacted with students and physicians from medical programs that used other methods for their anatomy studies.
"Whether it was books, or computers, or AI, or technology, they did not learn from generous donations like your families provided, and they don't have the depth of knowledge of the human body that is provided and was provided to me and my classmates and all of the fellows you see here, as a result of those donations," Dr. Hilton said.
Learn more about ATSU's Gift of Body program here.