ATSU student organizations, advisors of the year awarded
Posted: September 24, 2021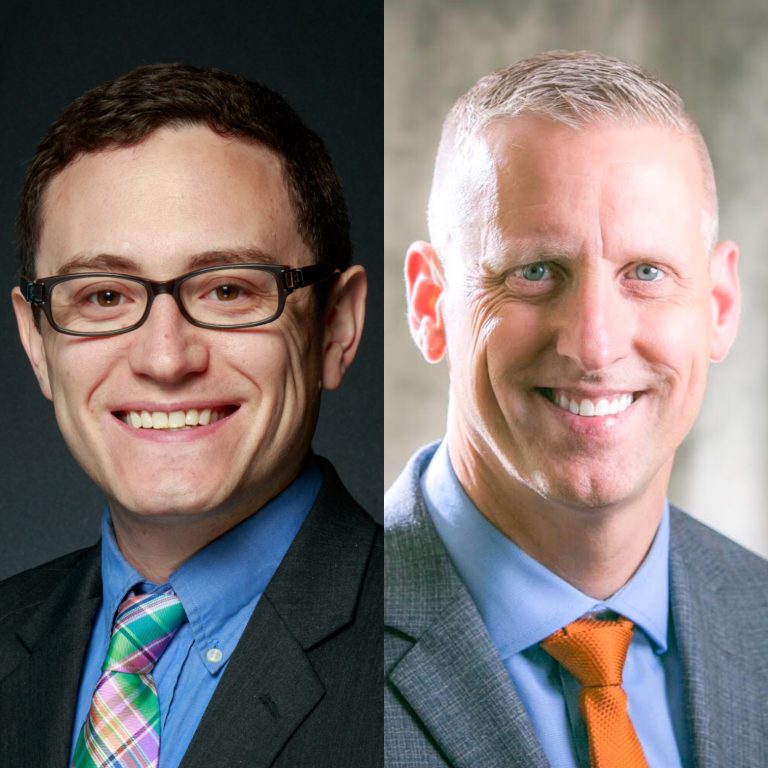 Scott Howell, DMD, MPH, associate professor and director of teledentistry, and Jeremy Houser, PhD, associate professor of anatomy
A.T. Still University's (ATSU) Office of Student Life recently announced 2020-21 Registered Student Organization (RSO) of the Year and Advisor of the Year recipients for the Mesa, Arizona, and Kirksville, Missouri, campuses. 
In Arizona, the Social Justice Club (SJC) earned RSO of the Year, while Scott Howell, DMD, MPH, associate professor and director of teledentistry at ATSU's Arizona School of Dentistry & Oral Health (ATSU-ASDOH), was named Advisor of the Year. 
SJC is an inclusive, interdisciplinary organization promoting social justice in the ATSU community and beyond. During the 2020-21 academic year, SJC assisted with a virtual phone bank to help registered voters enroll in Arizona's Permanent Early Voting List to receive a mail-in ballot and allow safe voting during the pandemic; hosted a collection drive for Native American Connection, with items donated to homeless youth, pregnant women, children living in poverty, and others; and volunteered with Feed My Starving Children to pack nutritious meals for children around the world.
Dr. Howell currently advises ATSU-ASDOH's American Student Dental Association (ASDA) and American Dental Education Association (ADEA) chapters.  
"Dr. Howell has been so helpful getting ATSU-ASDOH's chapter of ADEA up and running," said Jennifer Knickerbocker, D2, ADEA chapter president. "We are a new RSO and with COVID it was even harder to get started. He's been supportive of our goal of growing and becoming an established organization on campus. We feel lucky to have Dr. Howell as an advisor."
"Dr. Howell never fails to provide the much appreciated support and care for his students", said Joleen Chen, D2, ASDA chapter president. "Not only is he passionate for students to succeed in their roles as leaders, he constantly motivates students to be active in their goal setting, speak up for issues important to the student body, and take actions that will make a crucial difference in the lives of the local community. Dr. Howell has led ASDA through his tireless dedication, sincerity, and hard work, and we are endlessly grateful for his guidance and advice. We are so proud to work with Dr. Howell and he has certainly earned the RSO Advisor of the Year for 2020-21."
In Missouri, Alpha Phi Omega (APO) was named RSO of the Year, while Jeremy Houser, PhD, associate professor of anatomy at ATSU's Kirksville College of Osteopathic Medicine (ATSU-KCOM), was named Advisor of the Year. 
APO is a service fraternity which hosts community events for the ATSU and local communities. During the 2020-21 academic year, APO collaborated with other student organizations to host a backpack drive to collect school supply donations for the Kirksville R-III School District; volunteered to help the Adair County Food Pantry provide donations to 50 local families in need during the holiday season; held a donation drive to collect items for the Adair County Humane Society; volunteered with Hope's Kitchen to cook and package meals for those in need in the community; organized street clean-up events for several roadsides in Kirksville.
Dr. Houser currently advises the American College of Osteopathic Surgeons – Medical Student Section, Emergency Medicine Club, and Sexuality in Medicine Club.
Nicole Entemann, OMS II, and Katie Koopmann, OMS II, leaders of the Emergency Medicine Club, shared this quote from one of the many supportive emails Dr. Houser sent to students throughout the semester.
"I want to encourage you to set a new measure, a new barometer, seek success, to do your best, but do it with enjoyment," Dr. Houser wrote. "Find your joy in learning the information that will make you a powerful, effective physician. You WILL win when you enjoy this challenging journey, pushing yourself to your potential. I have the utmost admiration of you."
Entemann and Koopman said the emails are just one example of how Dr. Houser cares for and supports not only the clubs he advises, but the entire student population.
"As an advisor, he has been very open and supportive of new ideas, and remained involved, even throughout the COVID quarantine," Entemann and Koopman said. "We are only two people and we cannot speak for everybody else, but we feel Dr. Houser has made a positive impact in our lives here at ATSU-KCOM, and we are very thankful for his continued advice, positivity, and his overall support these past few years. This award belongs to him without a doubt."
RSO of the Year is given to an organization that exemplifies the mission and purpose of the University, brings attention to the University in a positive way, has a significant impact on the community, and promotes personal and professional development for student members.
Advisor of the Year is given to a faculty or staff member who demonstrates initiative in working with student organizations, helps student organizations accomplish their missions, promotes student learning, and serves as a role model for student members.
Nominations for the 2021-22 RSO and Advisor of the Year awards will open in January 2022. More information about each award can be found here.