ATSU Student Life announces RSO, RSO Adviser of the year for each campus
Posted: June 28, 2018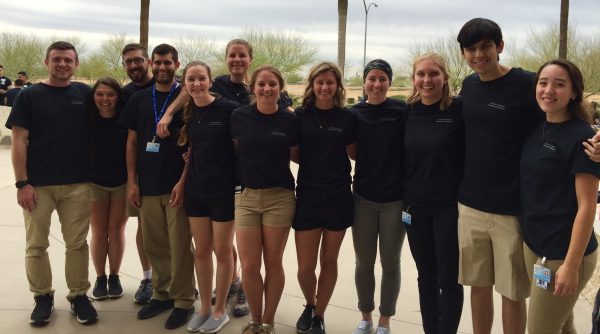 A.T. Still University (ATSU) Student Life recently recognized outstanding student organizations and advisers on each of the University's residential campuses. The annual awards celebrate the importance of extracurricular engagement for students in the health sciences.
"Engagement outside the classroom is critical to an ATSU student's overall experience as an ATSU student," says Mykel Estes, MEd, director of Student Life. "Over the past year, more than 100 registered student organizations (RSO) have given back to the community, enhanced the student experience on our residential campuses, and started dialogues that are shaping the way people view graduates in the health professions. We're happy to recognize two RSOs that went above and beyond on their respective campuses, as well as two advisers who contributed to the success of their respective RSOs."
The RSOs of the Year exemplify the mission and purpose of the University, bring attention to the University in a positive way, have a significant impact on the community, and promote personal and professional development for student members. Congratulations to following student-led groups!
AZ RSO of the Year: Athletic Training Student Association (ATSA)
ATSA is committed to educating the public about the athletic training profession and increasing awareness about safe participation in youth sports. Notably, ATSA partners with Mesa Parks and Recreation to educate parents, coaches, and youth athletes on concussion prevention and sports safety, as well as the role of athletic trainers.
"At every event, our members can find a meaningful experience beyond what we learn in the classroom," says Katrina Ritter, MS, '18. "It is an honor that such a small cohort of clinicians can accomplish so much!"
MO RSO of the Year: Sigma Sigma Phi
Sigma Sigma Phi (SSP) is an honorary service fraternity dedicated to furthering the science of osteopathy and promoting scholarship and fellowship at the University. Last year, SSP held several events, including Doctor Bag, at which SSP members educated first-grade students about what to expect at a doctor's visit. SSP also hosted Be The Match, a bone marrow registry drive at which 18 new, potentially lifesaving donors joined the registry.
"SSP has been filled with meaningful experiences," says Jessica Clark, OMS II. "It was a truly wonderful way to connect with my colleagues, all while serving our school and the community, both of which provided us so much during our time here in Kirksville. This recognition was an unexpected and pleasant surprise. It is a very nice reminder that even small acts of service can make a lasting impact!"
The RSO Adviser of the Year demonstrates initiative in working with student organizations, helps student groups accomplish their missions, promotes student learning, and serves as a role model for student members. Congratulations to the RSO Adviser of the Year on each campus!
AZ Adviser of the Year: Sara Wilson, MPAS, PA-C, adviser to the J. Louis Kettel Society
Sara Wilson, MPAS, PA-C, serves as adviser to the J. Louis Kettel Society, the student government association of ATSU's Physician Assistant Studies program. Student members of the group see Wilson as a role model who exemplifies dedication, positivity, and humility as a healthcare professional.
"Each year I learn new things from the students, and I am continuously amazed at what they are capable of, on top of their rigorous studies," says Wilson. "Their focus on serving the underserved and helping each other through hard times is truly awe-inspiring. Their ideas and creativity motivate me to try harder, be better, and find ways to help them reach their potential."
MO Adviser of the Year: Jason Haxton, MA, adviser to the Society for the Advancement of Historical Osteopathy and Philosophy
Jason Haxton, MA, director of the Museum of Osteopathic Medicine, was recognized for his work with the Society for the Advancement of Historical Osteopathy and Philosophy (SAHOP). As adviser, Haxton organizes travel to historic sites, hosts events at the museum, coordinates speakers from the osteopathic profession, and identifies books that celebrate the history of osteopathy. Student members describe Haxton as positive and prepared. His enthusiasm for discussing osteopathic history and philosophy is unparalleled.
"It is my privilege to bring our rich osteopathic history to this talented group of students from the various programs on campus," says Haxton. "It pleases me to know that our young organization's members feel SAHOP enhances their time on campus. If it sounds fun, we have plenty of room for new members, too!"