ATSU-SOMA's 1+3 model serves mission of caring for underserved, student ambassador says
Posted: July 8, 2022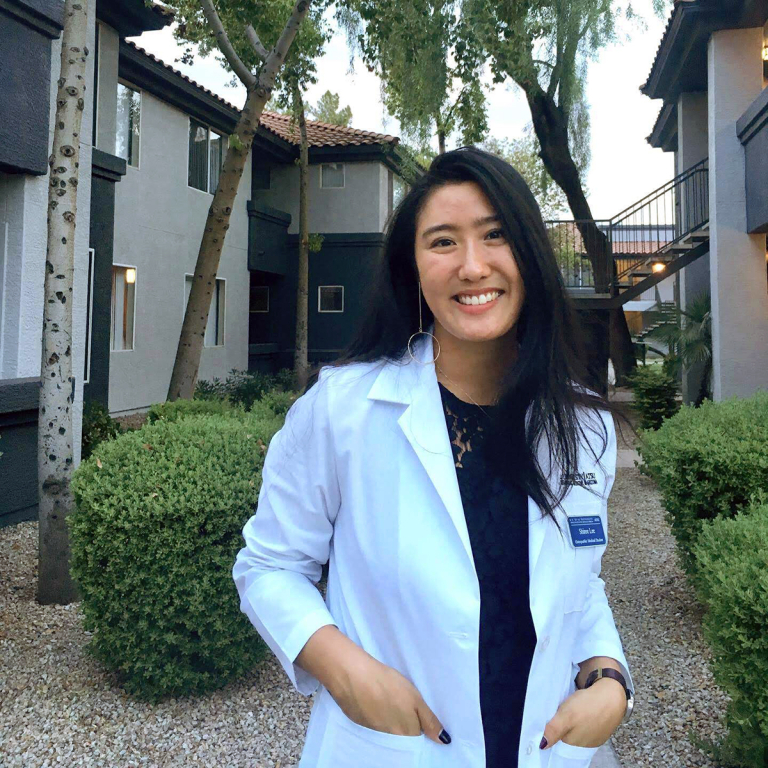 Shiree Lee, OMS III at A.T. Still University's School of Osteopathic Medicine in Arizona
Interview day is a memorable one for medical students for a variety of reasons. For Shiree Lee, OMS III at A.T. Still University's School of Osteopathic Medicine in Arizona (ATSU-SOMA), her experience with student ambassadors left a lasting impression, so much so that she became one herself after starting classes. 
"I received such a warm welcome from the student ambassadors during my interview day," Lee said. "They talked candidly about their own experiences getting into medical school and how they enjoyed their first year here. I remember how grateful I was for their insights and advice. Once I was accepted to ATSU-SOMA, I knew I wanted to become an ambassador so that I could pay that kindness forward with future applicants.
"What I enjoy most about being an ambassador is how much I am able to reflect on my own experiences at ATSU-SOMA, since not too long ago I was also an applicant. I had their same questions and worries and now that I've gone through the process, it all makes sense. Everything happens for a reason. Being on the other side of it all, I can confidently try to assuage the nerves of applicants and just make it as warm of an experience as I had when I was in their shoes."
Lee is a graduate of Stanford University, with a bachelor of arts degree in human biology, and is originally from Cerritos, California.
ATSU-SOMA initially stood out because of its 1+3 model, which Lee felt showed the School "actually walked the walk when it comes to caring for underserved populations."
"We literally get integrated into different communities across the country and I can say that it has enriched my medical education and perspective for the better," Lee said. "I thoroughly enjoyed the fact that we started clinicals a year earlier than most schools."
Contrary to what one might think, the model did not prevent Lee from developing strong and lasting bonds with her classmates, now on rotations at community health centers (CHC) around the country.
"I met some amazing friends that helped push me academically during study sessions at each other's apartments, but then also reminded me to relax and have fun, notably the time we went to an ABBA-themed concert in Phoenix," Lee said. "Thankfully, through the power of technology, I've been able to keep up with these friends despite being at different CHCs. As third-years now, I enjoy when we catch each other up on tales of patient encounters that we could only dream about during our first year. I've also become close friends with some of my CHC cohort. We usually hang out after our grand rounds, whether it's to explore the city or just decompress."
In addition to serving as a student ambassador, Lee is a tutor with Peer-Assisted Learning and ATSU Tutors for Kids, and a member of the Asian Pacific American Medical Student Association. She regularly volunteers as a tutor for children in Title I schools and occasionally will help out at a local cat shelter.
In her free time, Lee enjoys embroidery and hula-hooping, baking, rewatching her favorite movies, making musical playlists, and practicing other languages on Duolingo. Lee also likes to spend time at her local zoo to get in her daily steps and practice quick sketching skills.
Looking to the future, Lee said she would like to specialize in pediatrics.
"Throughout my rotations, I realized that not every child has had a positive impression of healthcare workers as I did when I was young. Often, they have already endured more hardships than most adults have, none of which they could have prevented or prepared for," Lee said. "Still, in the face of such adversity, children are a resilient bunch and it has been inspiring to see how they handle their situations. My ATSU preceptors have shown me exactly what kind of physician I aspire to be, in order to help as many children as possible lead healthy lives so that they can grow up to become healthy adults."