ATSU-SOMA volunteers pack meals for children in need
Posted: January 18, 2018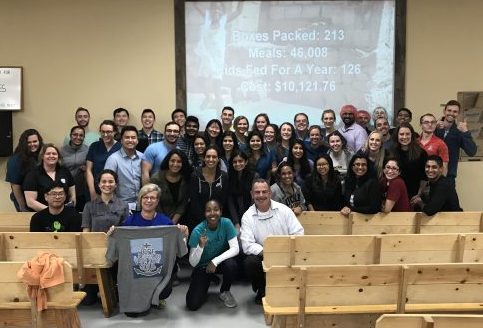 On Monday, Jan. 8, 85 volunteers from A.T. Still University's School of Osteopathic Medicine in Arizona (ATSU-SOMA) packed hundreds of meals for Feed My Starving Children (FMSC). In addition to providing volunteers, ATSU-SOMA held a fundraiser to cover the cost of the food. The meals, comprised of rice, soy, dried vegetables, and vitamins, will feed 126 children in the Philippines for one year. This was the School's fourth year holding a packing event for FMSC. 
"It was inspiring to see more than 100 people in one room, working together like a well-oiled machine, with the common goal of helping children and their families in any way we could," says Johnathon Chung, OMS I. "It was a very humbling experience, and my classmates and I agree that we will definitely be back."
The event is consistent with ATSU's mission to serve the underserved, and gives students experience addressing community health needs. It also encourages compassion, teamwork, and community engagement.
First-year student Samantha Esperanza appreciated the opportunity to learn outside of the classroom. "With all the studying we have to do in medical school, we often lose sight of the motivation that brought us to ATSU-SOMA in the first place," she says. "Volunteering with FMSC reignited my motivation to serve the underserved and reminded me why I'm pursuing a career in medicine."