ATSU-SOMA students supporting homeless through outreach program
Posted: July 16, 2021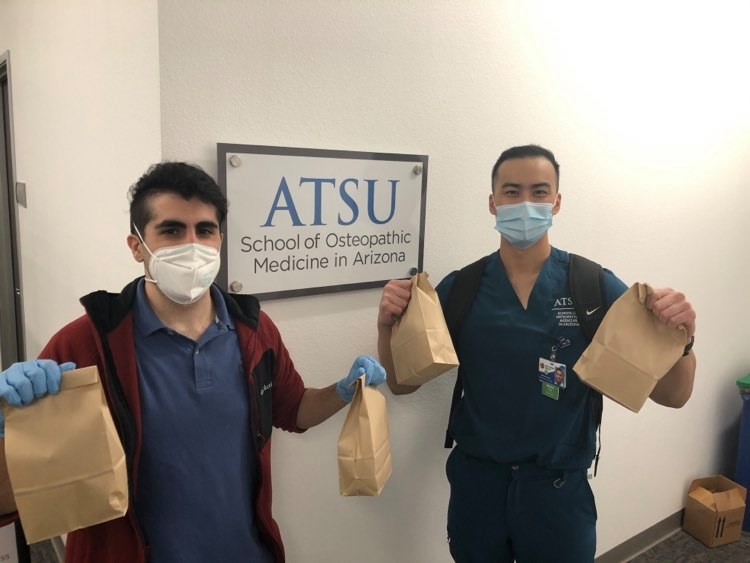 A.T. Still University-School of Osteopathic Medicine in Arizona (ATSU-SOMA) student Sam Adllirad is currently on rotation at San Ysidro Health, a community health center (CHC) in San Ysidro, California.
Adllirad, who recently completed his second year at ATSU-SOMA, is president of the Student Homeless Aid Relief Project (SHARP), an organization which assembles lunches and hygiene kits to distribute to homeless individuals in need.
We recently asked Adllirad a few questions about this organization. Here's what he had to say…
Q: What is your experience with SHARP?
A: I'm currently the president of SHARP, which aims to help relieve hunger in the homeless population by preparing sack lunches with hygiene items to personally distribute to the homeless in parks and streets where the homeless congregate. This was a club I was a part of at University of California, Riverside (UCR), and I founded a chapter at ATSU-SOMA because I enjoyed it so much. I joined this organization because I was shocked to see the large numbers of homeless people in the areas surrounding UCR campus. This was my opportunity to give back to the community.
Q: What does SHARP provide to homeless individuals?
A: Our sack lunches consisted of handmade peanut butter and jelly sandwiches, packaged snacks, water, and masks. With our distributions in May and early July, I dropped off the goods at the Rachel's Women's Center, a local women's homeless shelter in San Diego, California. We make 50 sack lunches and 100 peanut butter and jelly sandwiches.
In the past, we used to also include fruit, dental hygiene items, hand sanitizer, and dog food (for pets), and we plan to incorporate those items again in the future.
Q: How many ATSU-SOMA students are involved in this project?
A: We currently have 12 ATSU-SOMA students involved, including our vice president, Matthew Orosa, OMS II. We have an incoming class of 12 more students, so I am looking forward to working with a bigger team. Our CHC is a part of San Ysidro Health, which was a big help in our last distribution.
Q: How do you acquire the supplies for this outreach?
A: Supplies are acquired through ATSU's funding for student organizations. San Ysidro Health also donated masks for the homeless, and cleaning supplies for the packaging event, like gloves and wipes. I purchased bread, peanut butter, jelly, packaged snack bars, brown lunch bags, storage bags, water, and paper plates using our provided funds
Q: What does the future look like for SHARP?
A: So far, this has been the first outreach, but we aim to do at least three a year. I believe with more funding through donations, sponsorship, and fundraising, we will be able to make our distributions bigger and better. People can contact me at sa201839@atsu.edu for information on ways to support SHARP.