ATSU-SOMA students participate in 2013 Community Health Center Expo
Posted: August 30, 2013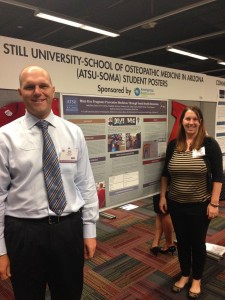 A.T. Still University's School of Osteopathic Medicine in Arizona (ATSU-SOMA) faculty and students presented at the 2013 National Association of Community Health Center's Community Health Institute & Expo (NACHC CHI) conference from Aug. 25-27 in Chicago.
One hundred-six, now third-year SOMA students, from each of ATSU's 11 community health center partner sites participated.  Thirteen posters were accepted for poster presentation during the August conference. Of those 13, six were chosen to present as both poster and oral presentations.  The fundamental theme for each presentation focused on the social determinants of health.
"I was impressed by the friendship and camaraderie among the community health center participants," said William Harjes, OMS III. "The support offered to medical students was incredible! I look forward to furthering these relationships so that we can improve health care throughout underserved communities."
Said faculty adviser and presenter Joy H. Lewis, DO, PhD, FACP, associate professor, Family and Community Medicine, ATSU-SOMA, "These projects allow us to give back to our community campuses and are important to our shared missions.  With these projects we integrate primary care and public health and give the students experience in community-based, participatory research. Our students will truly be ready to meet the healthcare needs of society."
Joining Dr. Lewis as a faculty moderator and presenter was ATSU Board of Trustee, Isaac R. Navarro, DMD, '08.
About NACHC CHI
NACHC CHI is the largest and most important annual gathering of 2,000 community health center managers, clinicians, employees, board members and leaders. Every aspect of the community health center movement is represented and fully-vested at CHI, making it an excellent networking opportunity. CHI provides essential up-to-date information, training and technical assistance on the latest community health center challenges, providing professionals in the industry with cutting-edge strategies for community health center success.