Stop the Bleed
Posted: May 21, 2019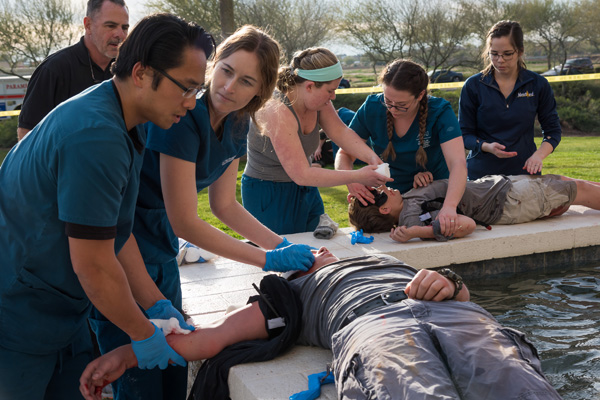 ATSU-SOMA faculty stage a mass-casualty simulation, giving students the opportunity to apply their newly acquired lifesaving skills.
If the unthinkable happens, ATSU-SOMA students are prepared to save lives. On Monday, Jan. 28, Maj. Michael Hay of the U.S. Army 6th Medical Recruiting Battalion provided Stop the Bleed training to faculty and first-year students. Participants learned to administer care to someone with life-threatening bleeding in the critical moments before first responders arrive.
All 106 first-year students at ATSU-SOMA participated in the training. After Maj. Hay provided classroom instruction, students were directed to the University's back patio, where faculty had staged a mass-casualty simulation. Students provided care to 40 standardized patient actors with simulated injuries. After a few minutes, the Mesa Fire Department arrived to take over, giving students a feel for how long they should expect to wait for help from first responders.
First-year medical students do not typically have the opportunity to learn these lifesaving skills. Because ATSU-SOMA students are assigned to community health centers in their second year of medical school, they will be able to train other healthcare providers and community members to respond to emergency situations.
While no one wants to find themselves in a situation where these skills are required, students felt confident in the training they received.
"Stop the Bleed is an excellent hands-on experience that provides any community member the chance to potentially save a life," says Alexis Fehervari, OMS I. "Two hours of our time in exchange for knowledge that could save lives is an invaluable opportunity. From a medical student's perspective, this training was a great way to add another clinical 'tool' to my arsenal. In regard to the simulation, it provided an opportunity to apply our knowledge to a realistic situation and practice the skills we had just learned."
"I thought Stop the Bleed was a great addition to our first-year curriculum," adds Kara Imbrogno, OMS I. "I felt like it was an important introduction for those of us without exposure to emergent or trauma care. I feel more confident in my abilities to assist, if I ever encounter an accident outside the hospital or clinic."
Faculty members were impressed by students' mastery and application of skills.
"This program is a perfect way for first-year medical students to learn a practical, hands-on skill that could save a life – not four years from now when they graduate, but tonight, on their way home," says Christina Weaver, DO, '14, assistant professor, clinical sciences, ATSU-SOMA. "I am so proud of our students. Aside from learning how to recognize and control life-threatening bleeding, the vast majority of them knew their patient's name and demonstrated excellent humanistic skills in the face of disaster. They kept their composure under pressure, and through it all remembered who they truly are – future osteopathic physicians."