ATSU-SOMA student's interest in OMM, service to underserved communities led her to Mesa campus
Posted: July 13, 2023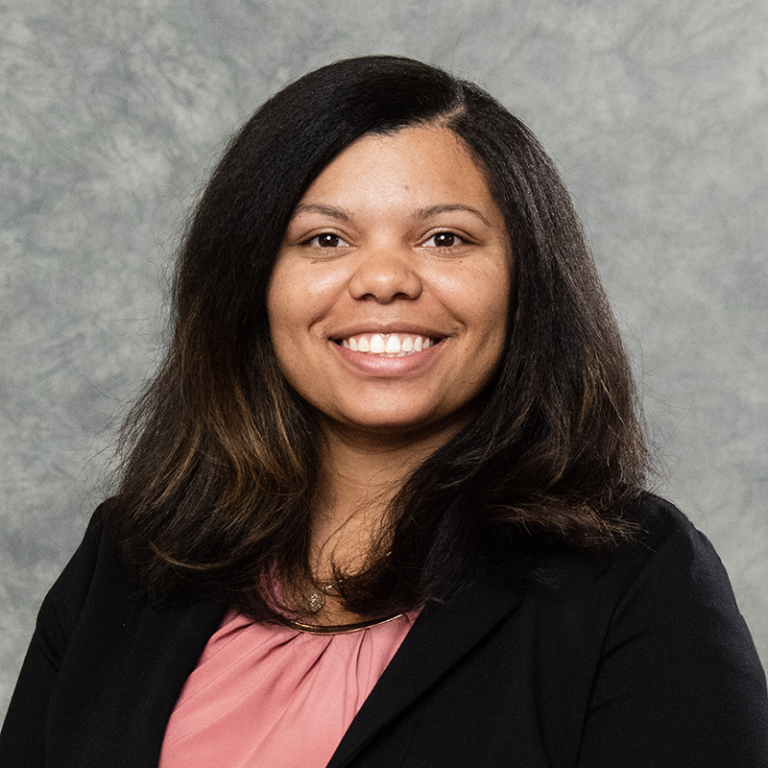 Breena Lanae Miller, OMS II
Breena Lanae Miller, OMS II, had already been working in various roles in healthcare before choosing to pursue a degree in osteopathic medicine at A.T. Still University's School of Osteopathic Medicine in Arizona (ATSU-SOMA). 
Originally from Indianapolis, Miller had earned an undergraduate degree in athletic training with a minor in massage therapy, and a master of science in anatomy in cell biology. She had been working as a massage therapist and athletic trainer when she decided to further develop her skills and pursue her passion for using her hands to treat musculoskeletal complaints.
Miller's interests took her to osteopathic manipulative medicine (OMM) and ATSU-SOMA.
"I hope to become an orthopedic surgeon who utilizes my osteopathic skills to facilitate healing pre- and post-surgery in an urban underserved community," Miller said. "ATSU-SOMA has great osteopathic physicians who love osteopathic manipulative medicine and love to teach it. The enthusiasm and skills they have on top of providing OMM to patients during my rotations is preparing me for my career. Also, professors and faculty have connections with orthopedic surgeons that are willing to guide me and let me rotate with them."
Other osteopathic medical schools could have provided OMM training, but Miller was also drawn to ATSU by its mission.
"Serving the underserved in medicine and all other aspects is a passion of mine, and that is a significant part of ATSU's mission. The community health centers are an example of ATSU living out its mission," Miller said. 
Miller has become a member of several organizations, serving as president of the Association of Women Surgeons Club and a member of ATSU-SOMA's Student National Medical Association chapter, the student American Osteopathic Academy of Orthopedics, Surgery Club, and Christian Medical and Dental Association.
"Each organization I am a part of represents my interests and embodies who I am. I joined the Association of Women Surgeons (AWS) because I longed for a community of women surgeons that would encourage me to pursue surgery and offer support and guidance, all while being mothers. Becoming a mother is essential to me and so is my career, so having examples of women surgeons is inspiring. The AWS club has worked with other clubs to host suturing events, host guest speakers, and have student-led informational sessions about excelling in surgery," Miller said. "Student National Medical Association is an organization dedicated to supporting underrepresented minorities. Prior to medical school, I did not have much exposure to African American physicians. As an African American woman pursuing medicine, networking with other medical students and physicians who look like me and work in competitive fields demonstrates that my goals are achievable.
"I joined the Student American Osteopathic Academy of Orthopedics because I am currently interested in pursuing orthopedics. Being a part of an organization where everyone has a common interest and knowledge about what is needed to be accepted into residency and become an orthopedic surgeon is essential. The Surgery Club is another organization that has exposed me to other surgical specialties and introduced me to other surgical organizations," Miller said. "Last but most importantly, I am a Christian, and being a part of the Christian Medical and Dental Association has allowed me to network with Christian physicians while learning how they practice medicine. These organizations have been informative, improved my leadership skills, and allowed me to connect with many amazing people during these last two years."
Miller is also an ATSU-SOMA student ambassador, which became a way for her to give back to a program which is helping her pursue her dreams.
"This opportunity of helping admissions is a way to show my appreciation and to inform prospective students about all the great aspects of ATSU and the School of Osteopathic Medicine. What I enjoy most about this role is sharing my experiences, answering questions, guiding students to the perfect person to assist them if I'm unable to, and helping prospective students decide if ATSU is the right place for them," Miller said.
In her free time, Miller enjoys spending time with her husband, watching movies, traveling, and attending church and events.
"I also enjoy meeting other students and learning about their life experiences. Some students come from different backgrounds and cultures, and I enjoy getting to know their journey to medicine. This year my favorite experience as an ATSU-SOMA student was being a teaching assistant for anatomy and working in the cadaver lab with first-year SOMA students. Working with them was fun and full of learning for both of us," Miller said.